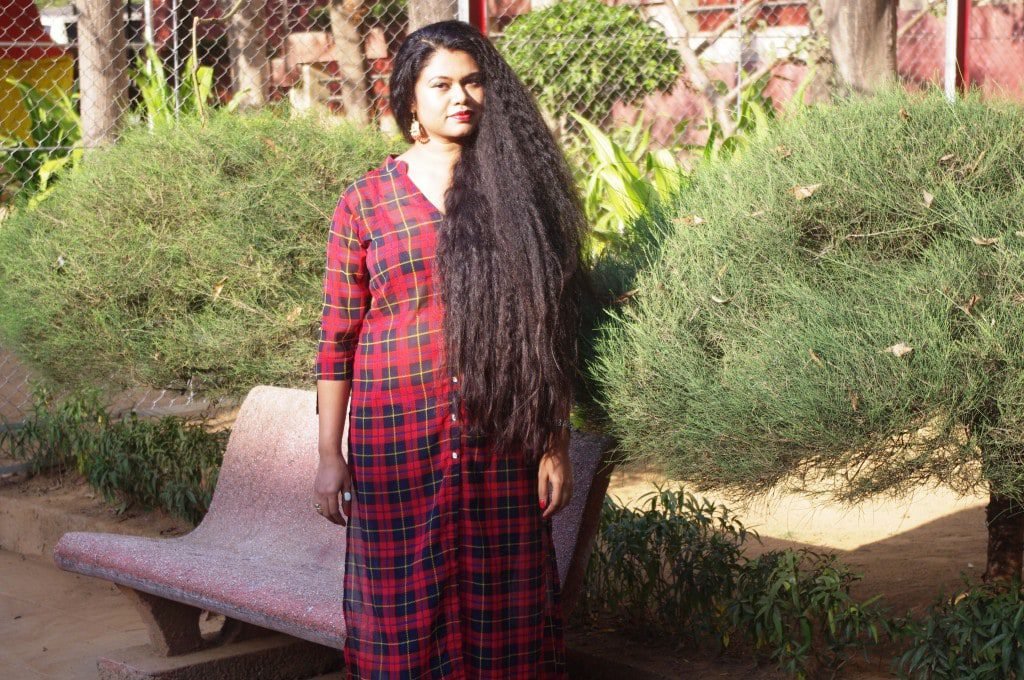 I have extremely thick, wavy and long tresses that always test my tolerance during the everyday washing, de-tangling and styling regime. Tired of the usual and painful grind, I decided to go for a hair rebonding treatment to settle it once and for all.
I previously got the rebonding done twice in a span of 5 years in my hometown Lucknow.
Arif, the amazing hair expert with signature salons at Hazratganj and Kapoorthala area, transformed my mane from being frizzy and unmanageable to silky and celebrity like. On both the occasions, the treatment lasted me a good 12 months. However, upon moving to Mumbai, I just didn't know which expert to consult and where to get the treatment done as there were too many salons and less information available. I visited multiple salons in the western suburbs, where I stay, and met various experts and hair professionals before making up my mind.
After researching and being convinced of its service quality, I chose Enrich Salon, Thakur Village, Kandivali East and settled for their Shine-Rebond Treatment eventually.
So, What is Rebonding?
Our hair is made of natural protein bonds that determine the appearance and texture of each hair strand. In the process of rebonding, those natural structures are dismantled and are reconstructed with the help of chemicals and heat for a poker straight look. This bond reconstruction remains intact for atleast 8 to 9 months depending on how well have you been taking care of our tresses. The new hair growth from the roots shows your natural hair structure and, hence, a touch up is recommended if required. Special shampoos, conditioners, masks, serums etc are used after the treatment that help preserve the straightness and shine of the chemically treated hair. Using regular products should be avoided for durability of the straight effect.
 Why I chose Rebonding over other treatments?
Different salons offer similar treatments with different names. One treatment would be available at two different places with two un-identical names. So, what is called rebonding at one salon might be referred to as keratin-bond or shine-bond at the other. In India, there are majorly two types of services available- Smoothening and Rebonding.
Smoothening: A relatively 'lighter' process that doesn't involve too many chemicals and less heat. Hair looks more manageable without losing its natural texture. Those curls will turn into waves and frizz would be eased out. No earth shattering makeover though. If you don't have stubborn curls and wish to sport a more natural and frizz free look, go for it!
Rebonding: As I mentioned previously, this includes a lot of chemical restructuring and results in total hair makeover. It is a lot more time consuming, expensive and demands high maintenance later. But that is all worth the transformation it provides to the hair. Recommended for girls with extremely curly and unmanageable hair!
With my super thick and frizzy hair, a smoothening treatment isn't enough. I like to tame it down and keep it weightless for a more polished appearance. Once rebonded, no ironing or blow-drying is required which saves my hair from hot irons and driers.
Prices:
All salons have different rates for Rebonding depending on various factors besides the length and thickness of the client's hair. Overall, I was charged Rs 9,800 including taxes for the service. Later, I bought special hair care products, separately.
The Process Of Rebonding.
Their senior stylist Divya Sharma handled my treatment and impressed me with her skills and patience. Undertaking a rigorous and multi stepped hair treatment with the length and volume of my hair truly needs patience. LOL.
So, the entire process had the following steps:
Shampooing: My hair was thoroughly washed with a hair cleanser to cut out dirt, grease and any product buildup.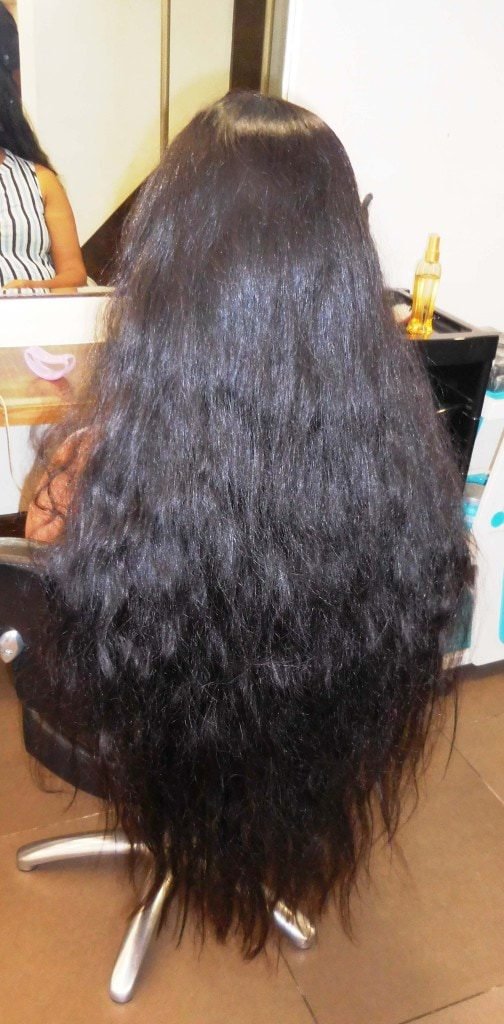 De-tangling and blow drying: A tangle teaser was used to do away with all knots and prepare the hair for straightening cream application. A quick blow dry followed to smooth out ruffles in my wavy locks.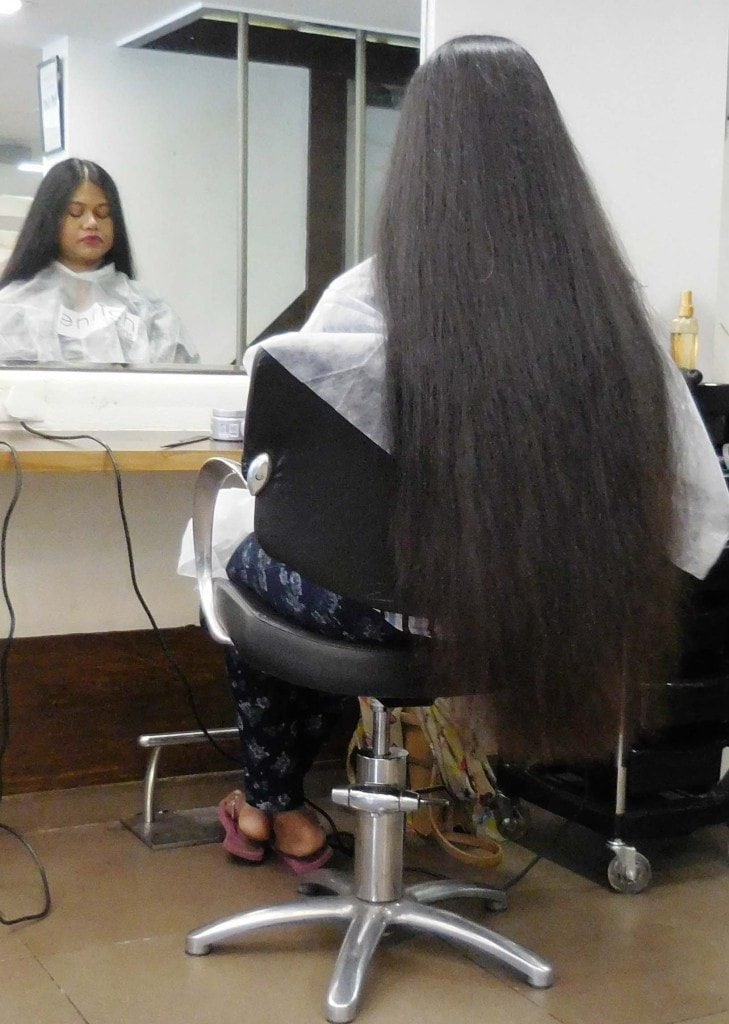 Cream application: A special straightening cream was painstakingly applied to each hair strand and left to work for 45 minutes.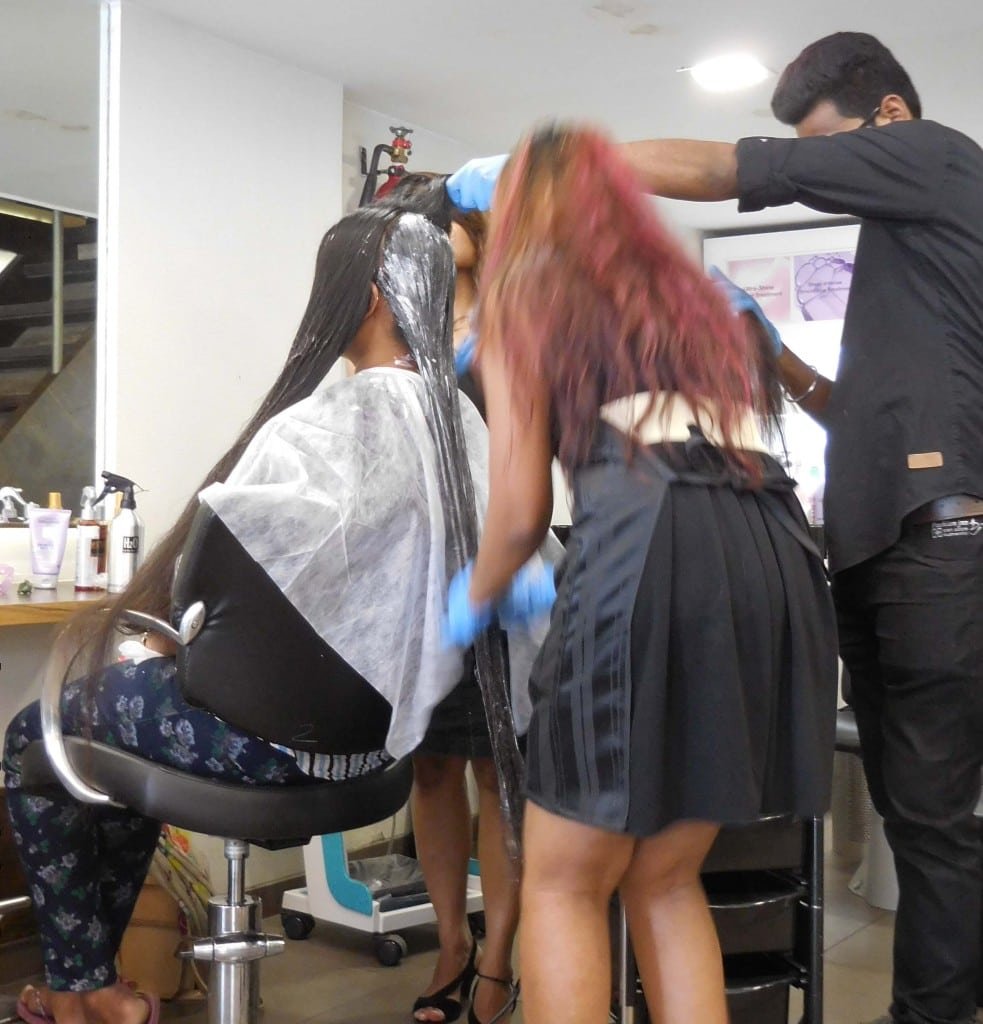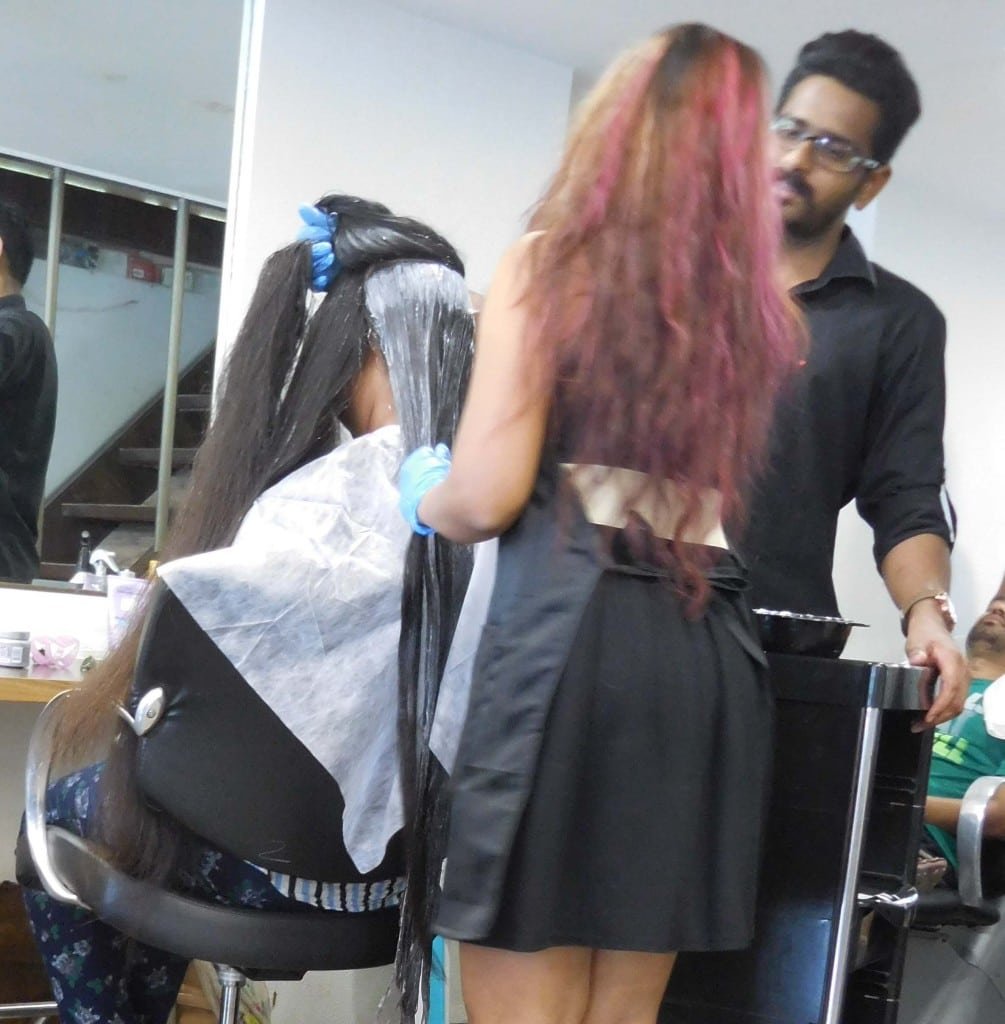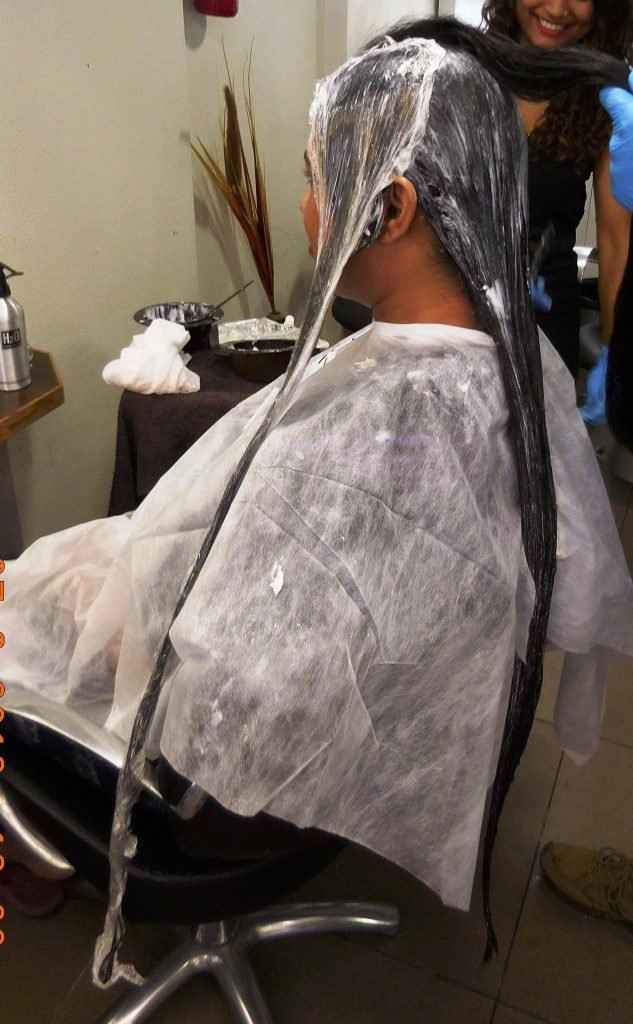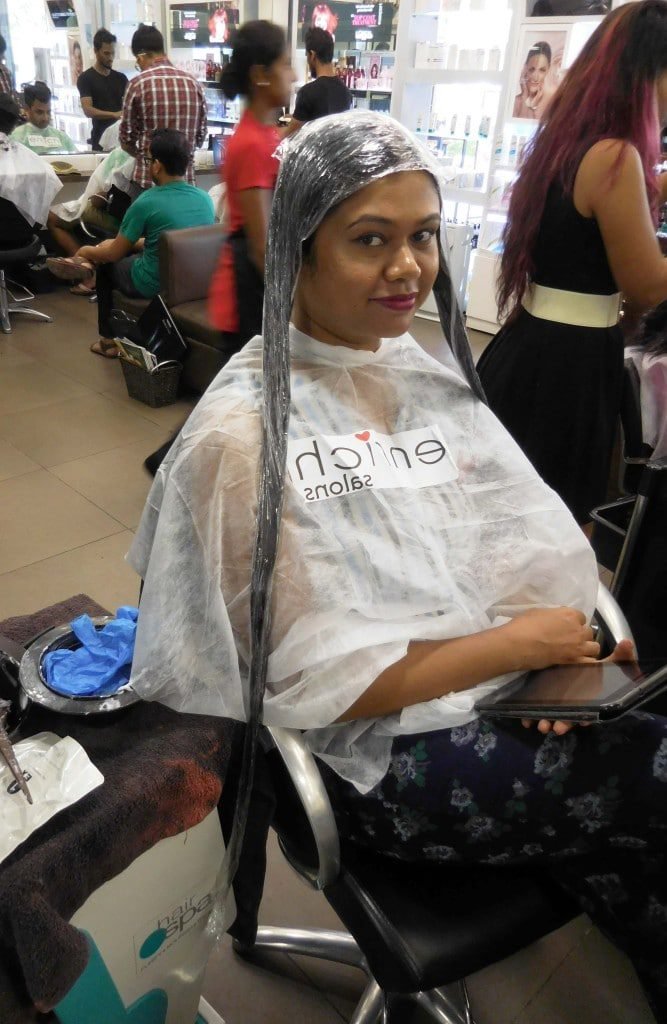 Shampoo and conditioner: The cream was then rinsed and hair was shampooed. A deep conditioning followed to rehydrate hair after cream application and restore moisture.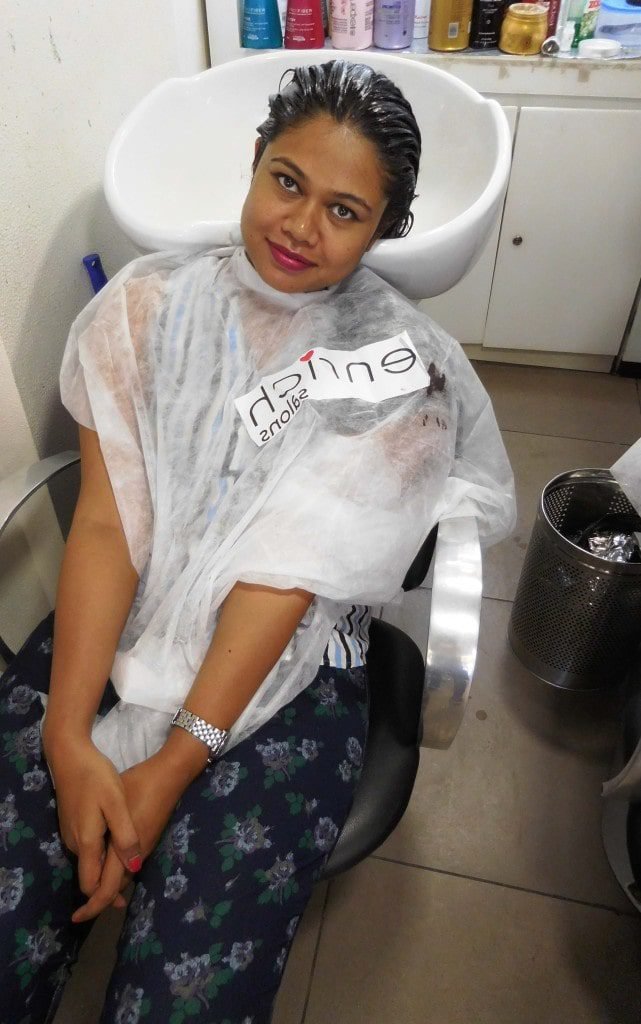 Ironing: With a hot iron, my hair was straightened. The stylist took extra time to carefully iron out all the strands including the very minuscule baby hair.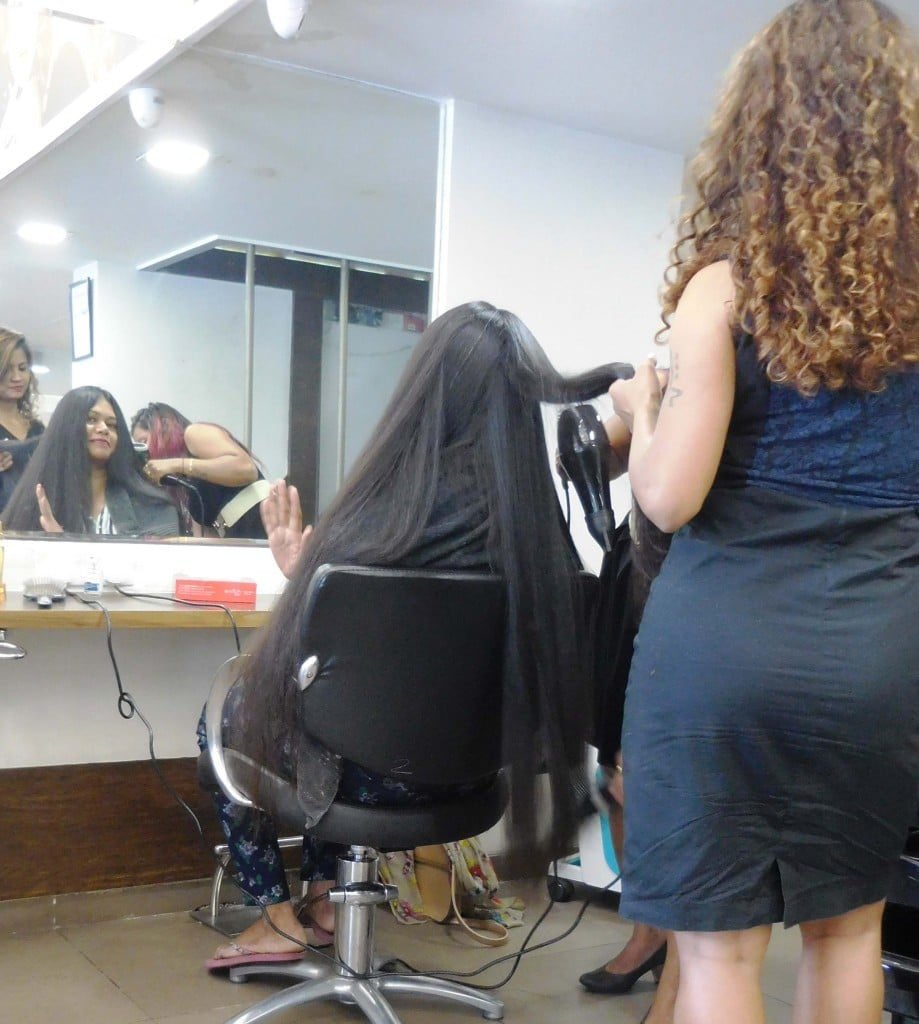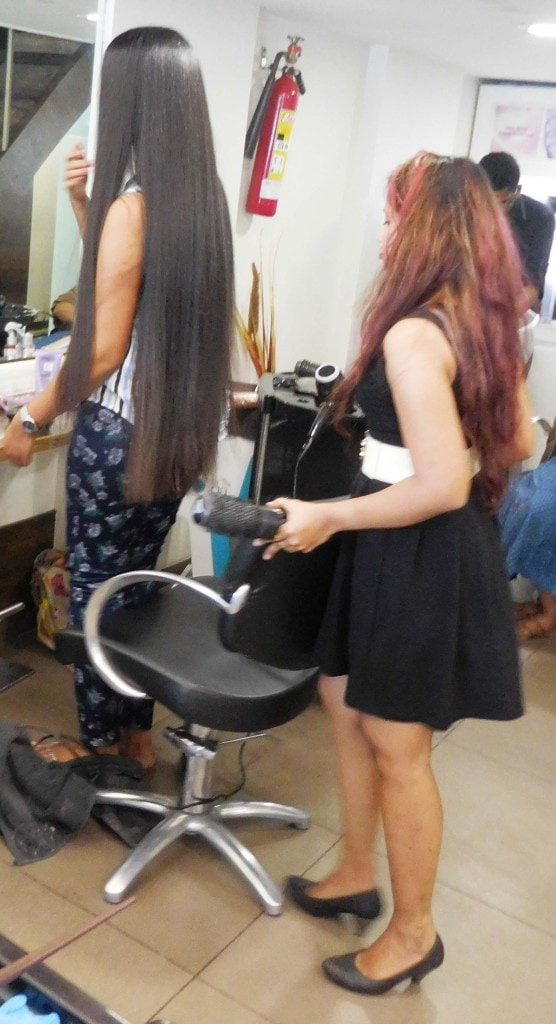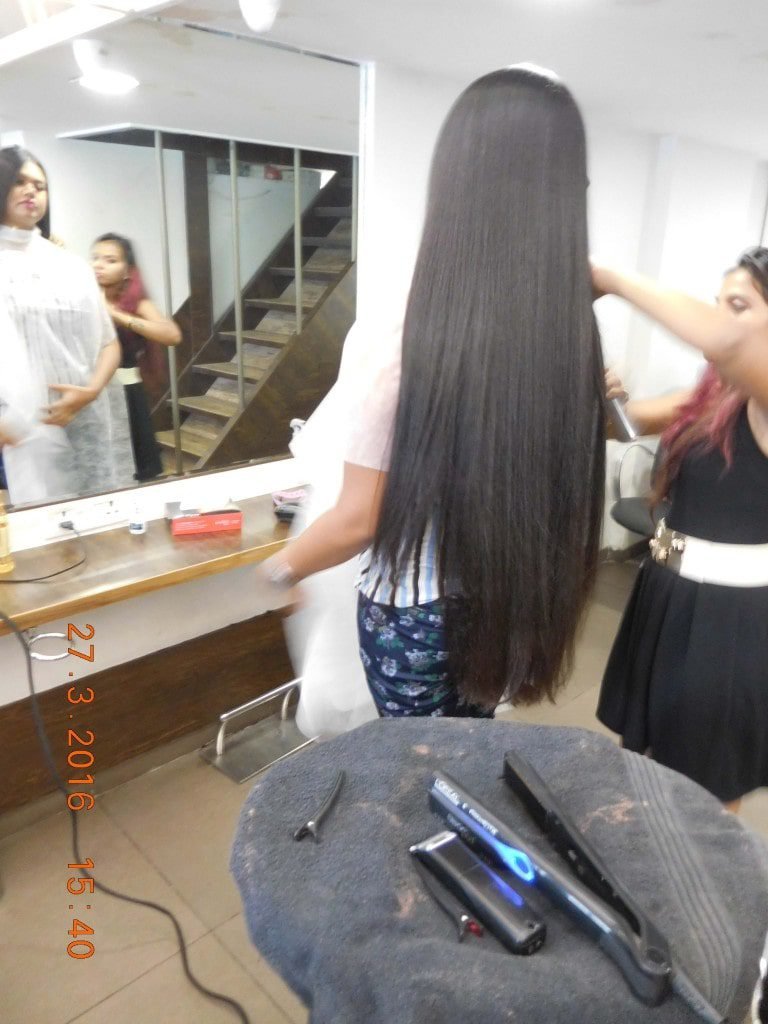 Neutralizer: A thick coat of neutralizer was applied immediately after ironing to lock the straightness. This was again done very carefully and gently without messing with the straightness. The cream is generally left for 20 minutes, though, considering my hair's frizz and volume, it was allowed for almost 40 minutes.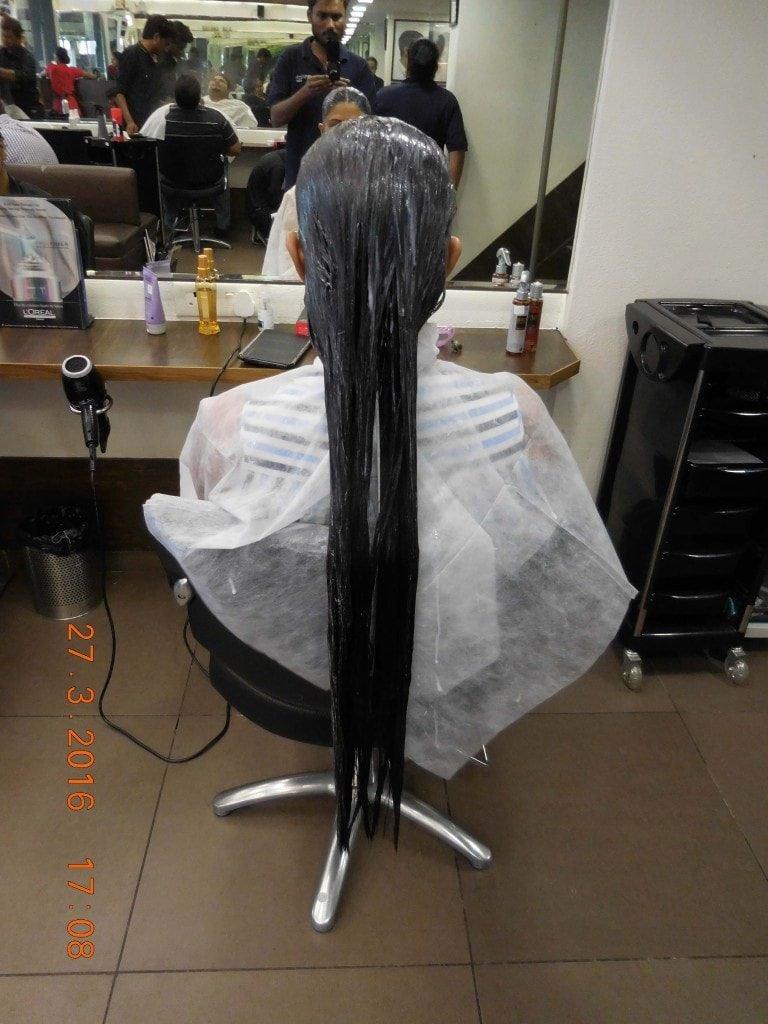 Shampooing, conditioning and blow drying: The neutriliser was washed away following a deep conditioning session. My hair was then blow dried for a poker straight effect.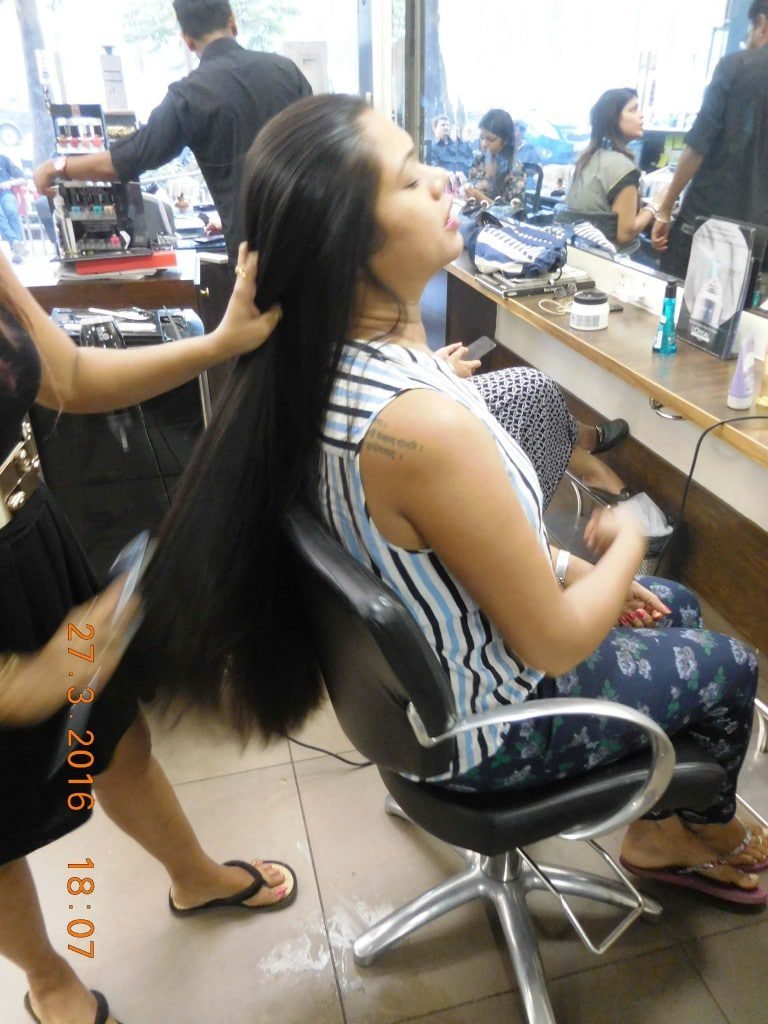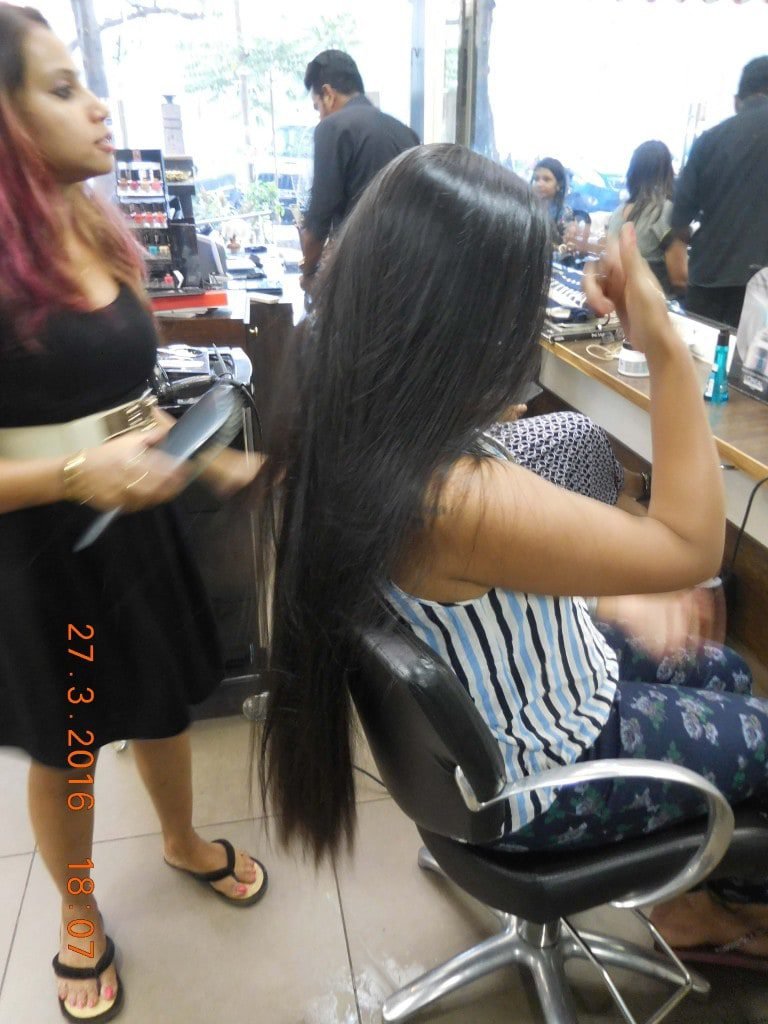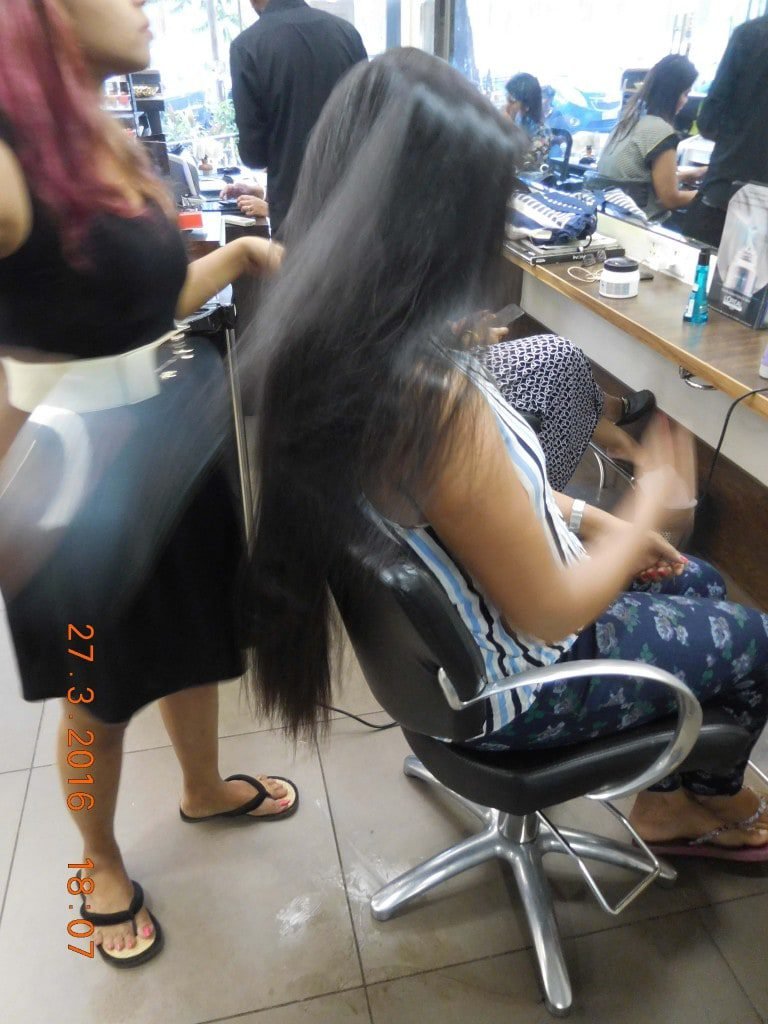 Serum: A shine serum was eventually applied to calm the hair down and restore moisture.
The stylist asked me to visit after 3 days for final wash and power dose spa treatment.
The next 72-hours are crucial
The hair care regime for next 3 days or 72 hours can make or break your hair. All this while, the chemicals applied during the process are in action and will set your hair in the shape you leave it in. The following measures should be taken for the next 3 days:
No water: Hair must not touch water or moisture as it will distort the shape. Hence, no shampoo or top shower. Even wash your face carefully so the treated hair doesn't come in contact with water. Be extra cautious during monsoon.
No tying, tucking and clipping: Hair must not be tied in anyway, tucked behind the ear or clipped. Leaving it straight will draw the best results.
Avoid sweat and strong wind: It is advisable to avoid heavy physical activities including jogging, gyming, travelling in public transport etc that can result in a sweaty scalp. Venturing out too much as visits to beaches, crowded areas shall also be postponed.
Care while sleeping: Sleep on a soft pillow and protect hair from bunching or coiling.
My Experience At The Enrich Salon:
The staff at the salon was very accommodating, heard my hair concerns patiently and offered consultation. Their suggestions and consultation sounded genuine to me in contrast to tall claims made by many famous and high-end salons.  They also offered me a very reasonable price for the service and sundry post-service treatments. I would rate Enrich high on parameters like hygiene, attentive and experienced staff besides their efforts to ensure the client's comfort. Stylists Divya and Viral, who undertook my treatment, were extremely courteous and skilled.
Though, what irked me was the management team at the reception. There was no coordination amidst the team and the managers kept messing up bills, appointments and everything else all the time that left most of the clients puzzled and annoyed. Moreover, Enrich does push one to buy packages and products, which is frustrating.
WORD OF CAUTION: Be careful while buying packages as they don't end up the way as promised. Also, ask for proper bills every time and try to retain them till you actually exhaust your package. I had to demand for bills as the management simple forgot to provide me with one. Later, they tried to create confusion by claiming that I have already used up entire my package when I still had a few services pending. It was only after I produced the bills they apologized.
Lastly, buy products only if you need them. Enrich tries to hard sell all expensive (read unnecessary) products and coax one to spend a fortune.
Post Rebonding Hair Care:
As I mentioned earlier, specially designed products to preserve the straightening effect are mandatory for chemically treated hair. Dump the regular shampoos, conditioners and other stuff. I recommend using L'Oreal x-tenso range as featured below that includes shampoos, masks, serums etc categorically made for straight hair.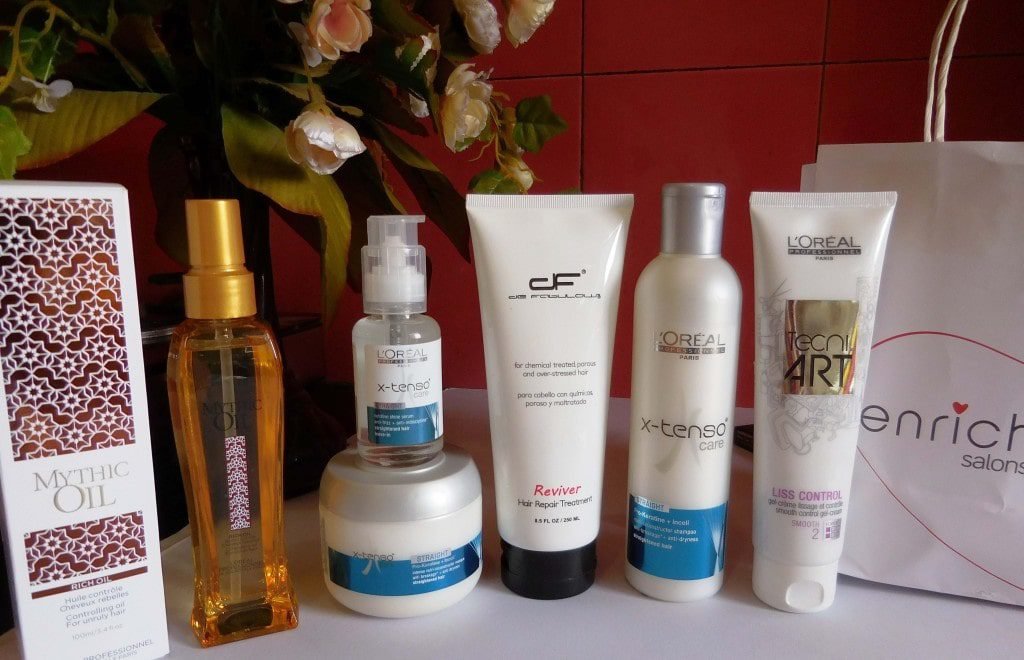 I hope my experience will help you to choose wisely for your hair. If I have left any other point, please feel free to ask me by leaving a question in the comments section below or by emailing me.
You can also watch the hair rebonding process on my youtube channel :