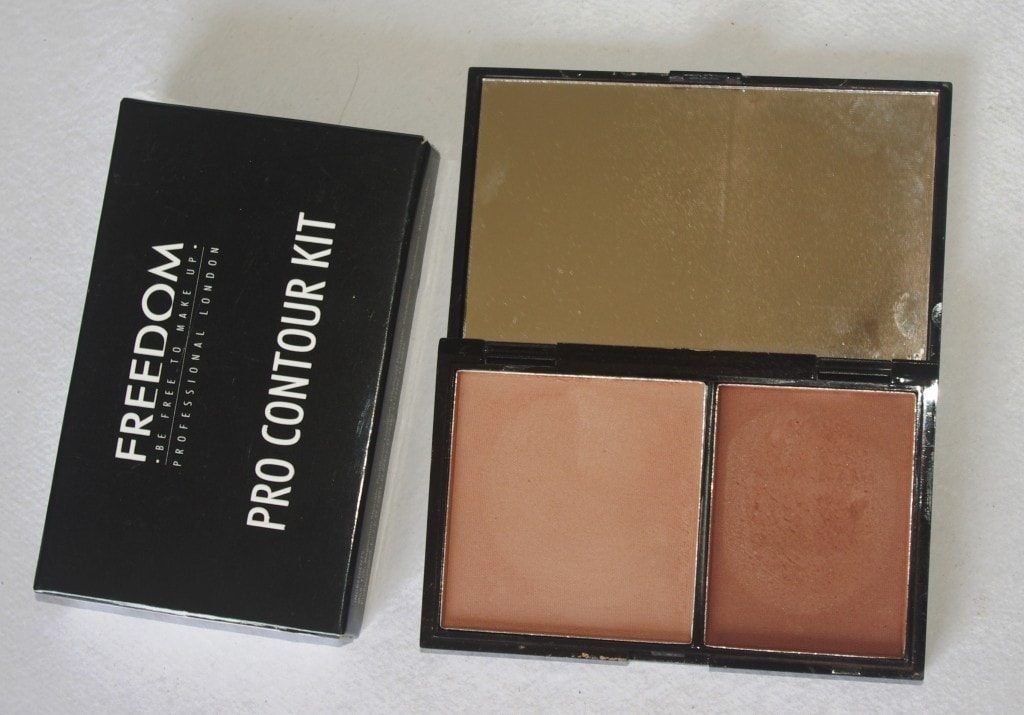 While all of us want to rock a chiseled face and taut jawline, it is a struggle to choose the right contour product that works for your skin tone and type. For my oily skin, I have preferred powder contour products over the cream ones as the latter makes the face appear oilier and muddier. Freedom Makeup London's Pro Contour Kit-Medium 02 could be a great product for Indian complexion if you too prefer your contour to remain crisp and edgy and not reduce your face into appearing greasy. Read on for my review and swatch of Freedom Makeup London's Pro Contour Kit-Medium 02.
Available Shades :
The Freedom Pro-Contour kit is available in shades- Fair, Medium 01 and Medium 02.
Price:
INR: 699 for 6 gm
Available:
With most online retailers like Amazon, Flipkart, Nykaa etc
About Freedom Professional London:
It is the sister brand of Makeup Revolution London, which does premium quality products including dupes of the high end ones at a very affordable price. Freedom Makeup is promoted as the professional range but still is unbelievably inexpensive. In India, the Freedom line has launched several products including eye shadow, conceal, contour, correcting and highlighter palettes besides lipsticks among others.
Packaging:
More than fancy packaging, I really like products with a practical casing. There could be nothing more heart breaking than seeing your favourite palette break in your travel bag given to its fancy yet fragile packaging. The Pro-Contour kit is compact and really handy in a solid black case. Given to its sleek design and weightlessness, could be carried around in handbag. The product comes with a mirror but no applicator, which is alright because contouring anyway requires an advanced angular brush that couldn't be expected in that price.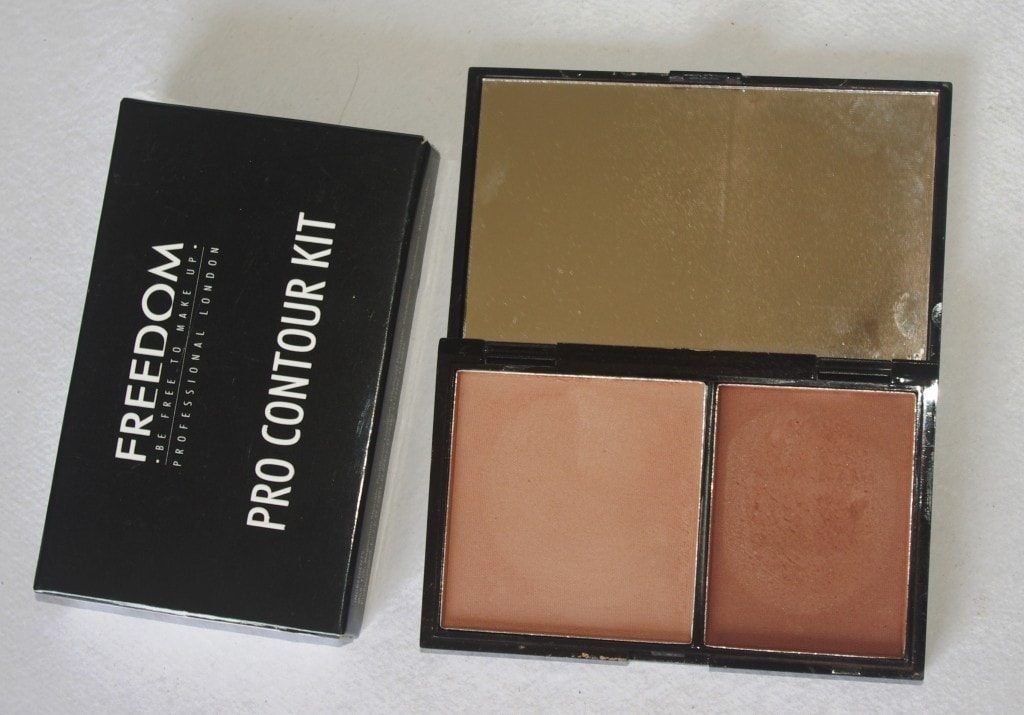 Ingredients:
Mica, Talc, Magnesium Stearate, Paraffium Liquidum, Ethylhexyl Palaminate, Polybutene, Dimethicone, Methylparaben, Propylparaben, CI 77891, CI 77491, CI77492, CI774999, CI 16035.
MY EXPERIENCE WITH IT:
The palette has two shades, a lighter biscuit-ish and the other dark brown, in the pans.  I have the average warm wheatish Indian complexion with yellow undertones. Initially, I used to pick up cream contour sticks and mousse foundations two shades darker than my skin for the purpose of contouring. However, in harsh and humid Indian summers it is safer to wear a powder product to avoid the stickiness of cream contour. Especially, if your face is oily it is advisable to steer clear of cream products.
One strange thing about this Pro-Kit is that it is promoted as highlighter and contour combo, however, the lighter shade is far from being called a highlighter for medium skin tone which the kit is made for. The shade may work as a soft contour for beginners or an eye shadow but definitely not as a highlighter.
Texture:
The powder is smooth and evenly milled. Pigmentation is decent and gets picked up in the brushed easily. It also gets conveniently blended into the skin with the help of an applicator without leaving any patches behind.
Colour and intensity:
The best part about the product is that it is absolutely matte! Not even a hint of shimmer, which is awesome. Contouring is done to create deep shadows and dimensions on the face to make it appear slimmer and chiseled. A glittery product can ruin the science behind contouring. Of the two shades on the palette, I prefer the dark brown shade as it is best suited for the purpose. The lighter one could be used for soft contours. I generally use it as the transition eye shadow shade. The sad part is that the dark brown shade is lesser in quantity contained in a smaller pan. The product is buildable for desired intensity.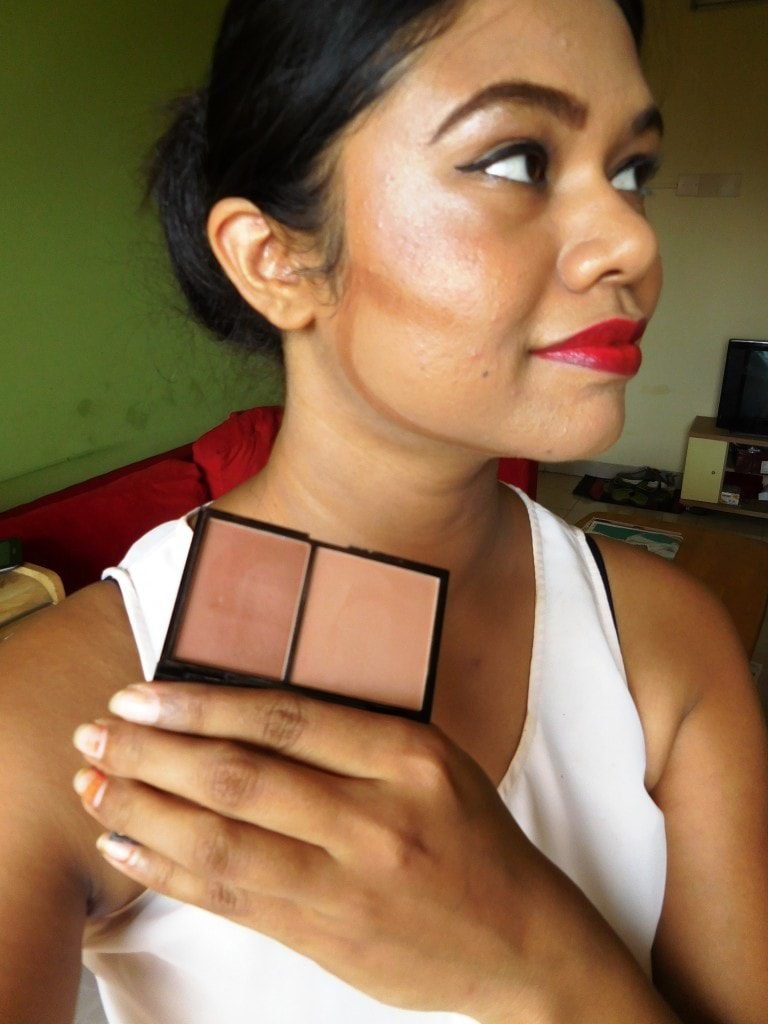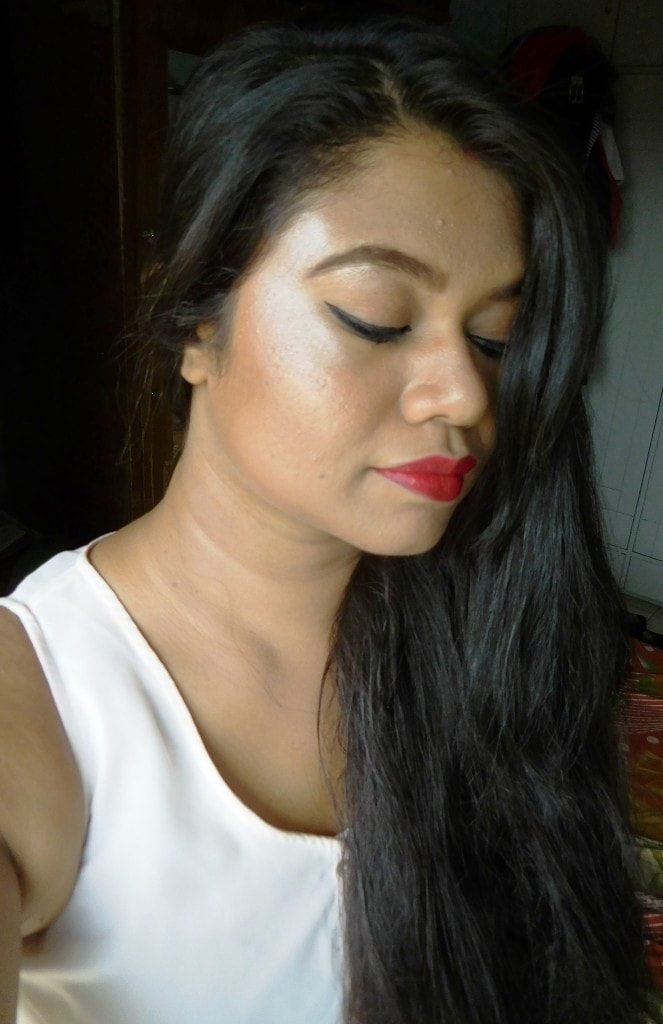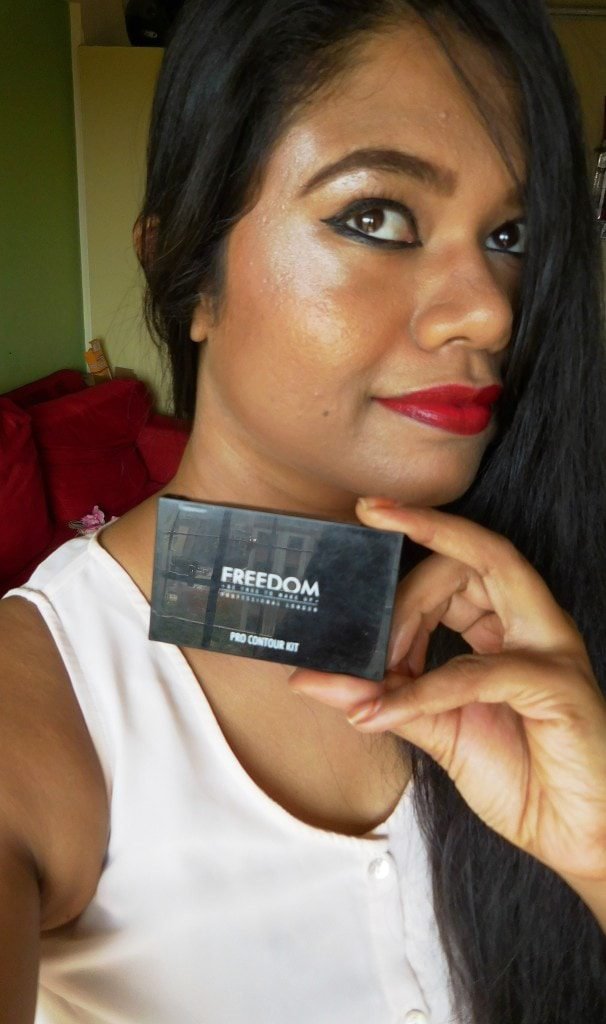 Lasting Power:
Unlike the contour stick (usually worn under the foundation), I wear it over my foundation and setting powder. It lasts for a good 5-6 hours even on my super oily skin. It is not that transferable once blended, unless offcourse you try to wipe it with a tissue.
HITS:
Great affordable product.
Good for beginners trying their hands on contouring.
Absolutely matte, which is amazing as most contour products have hint of shimmer in them.
Travel friendly and handy packaging.
Comes with a mirror.
The darker of the two shades works great on average Indian skin tones.
MISSES:
Not easily available across the country. Only a few online retailers sell it.
Darker brown shade comes in a smaller pan and the lighter shade in the larger one. It should be the other way round.
Contains Parabens.
Salon Guru India Rating: 3.5/5