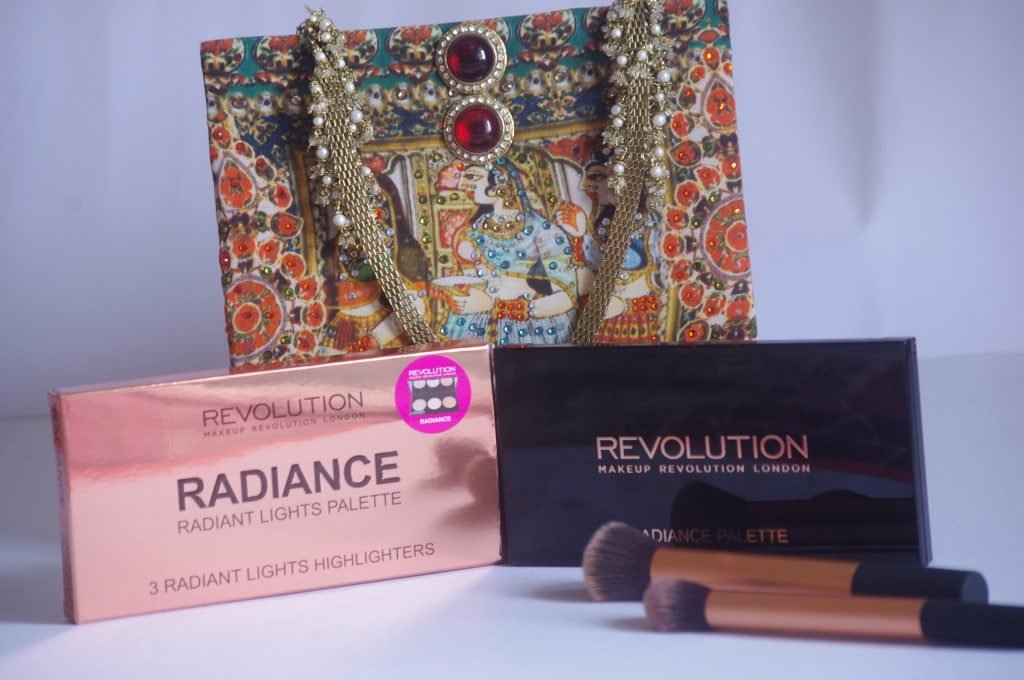 Highlighters/illuminators, I feel, are one of the most under-rated makeup essentials in everyone's vanity. With the right application, they not just make your best features pop but also provide that healthy glow on face. I am totally over-whelmed by the way Makeup Revolution does illuminators, be it single pots, triple baked, palettes or blushing hearts, the list remains endless. After falling in love with the Goddess Of Love Triple Baked Highlighter (read my review here), I couldn't resist to try the Radiance palette that contains three unique shades to suite your mood and skin tone. So, here is the review and swatch of Makeup Revolution Radiance Radiant Lights Highlighter Palette.
Price:
INR 1750. (I bought it following a 50 percent sale on Flipkart).
Available:
With major e-retailers including Flipkart and Amazon.
Ingredients: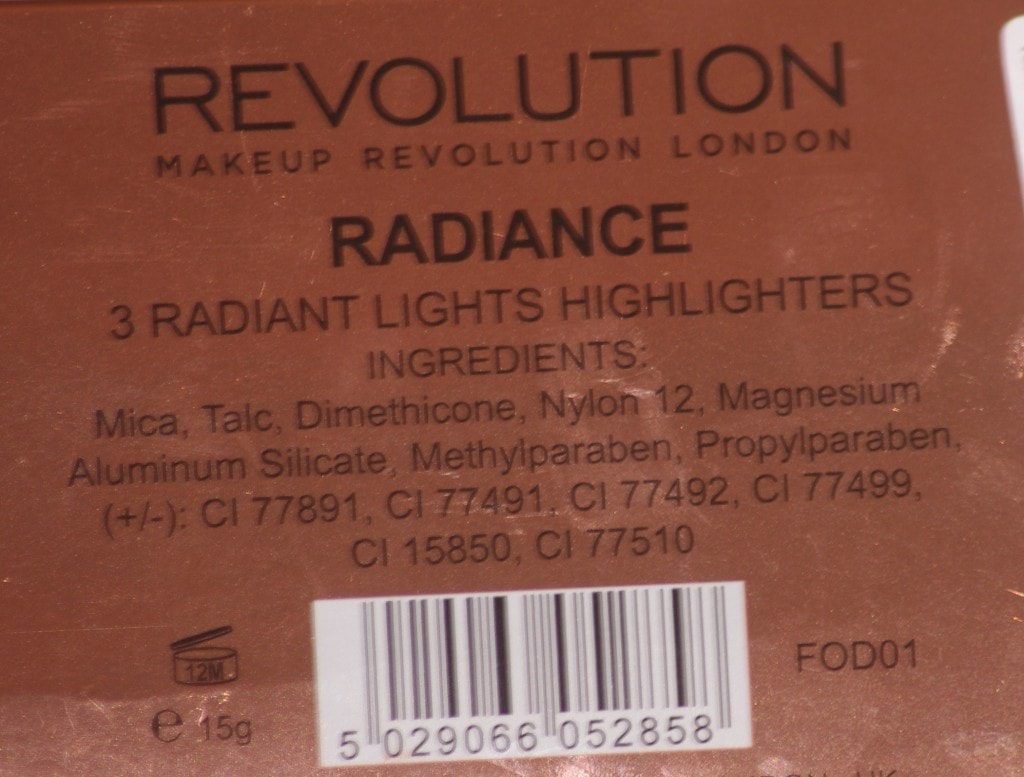 Packaging:
Like other palettes by Makeup Revolution, this product too comes in a signature packaging. Large bespoke black case and even larger mirror, which is an absolute delight for quick touch-ups on the go! The packaging is neat and fuss-free. The outer cardboard carton is shiny rose-golden, justifying the name of the product. The palette doesn't come with any brush or applicator. The sleek and sturdy packaging makes it travel friendly. However, given to its enormous size, it could be tricky to carry it in a small/medium sized handbag.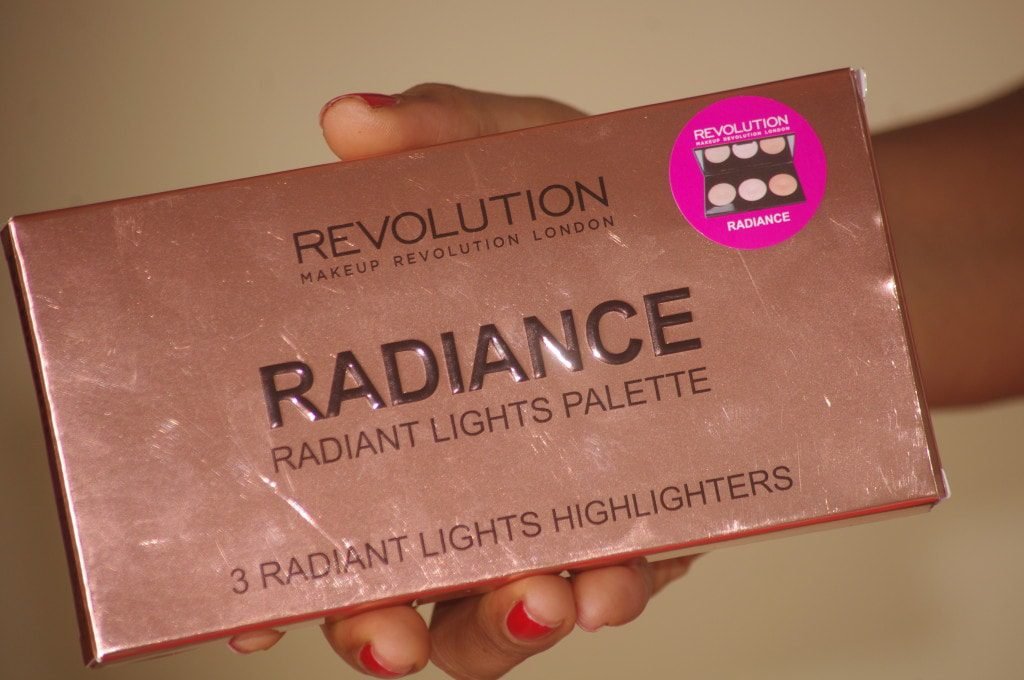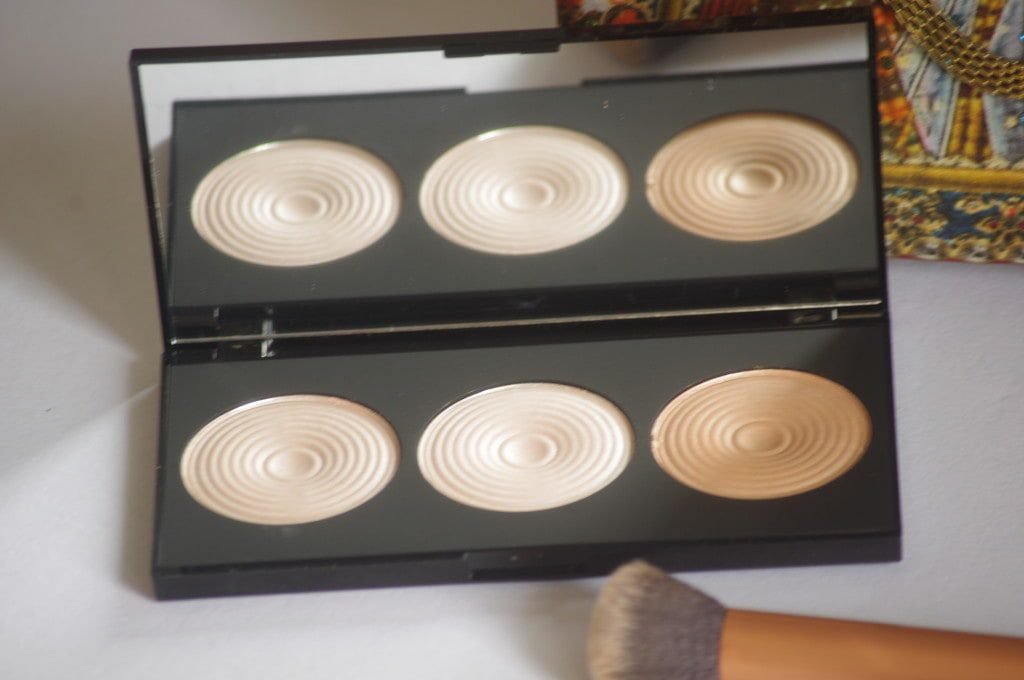 The Shades:
The Makeup Revolution website describes the three highlighter shades in the palette as Breathe, Exhale and Glow. Amusingly, there is no specification on the packaging about what shade is to be called by which name. So, I simply assume the names to be read from left to right.
Breathe:
A pale rose-gold colour.
Exhale:
A pale silvery shade with a slight pink undertone. Very similar to the first in finish.
Glow:
Champagne like colour more towards gold. Gorgeous on darker skin tones.
MY EXPERIENCE WITH IT:
As I mentioned in my previous blogs that Makeup Revolution does dupes of high-end products like a boss! The Radiance palette too could pass off as the ultimate dupe for Hourglass Ambient Lighting palette. The colours and presentation is almost the same, however, the prices are astoundingly different. The Makeup Revolution one retails for 8 Pounds as compared to Hourglass' 44 Pound. In India, the price of the two products is 1,750 and 11, 500, respectively. Phew!
Anyway, let's focus of how my experience with the former has been like!
Texture:
All the three highlighters have a satin like texture and smooth finish. On application, they conveniently gels into the skin and don't appear flakey.
Pigmentation and intensity:
On being finger swatched, the shades look highly pigmented and get easily picked up on brushes as well. Though, I found that they don't equally show up much on the face. Especially, once worn on paler skin tones, the first two shades hardly are visible until layered up. Unlike Goddess Of Love , which was super-duper pigmented and had to be toned down a bit in intensity, this one is a bit on the sheer side. Had to be built up further to be seen on the camera!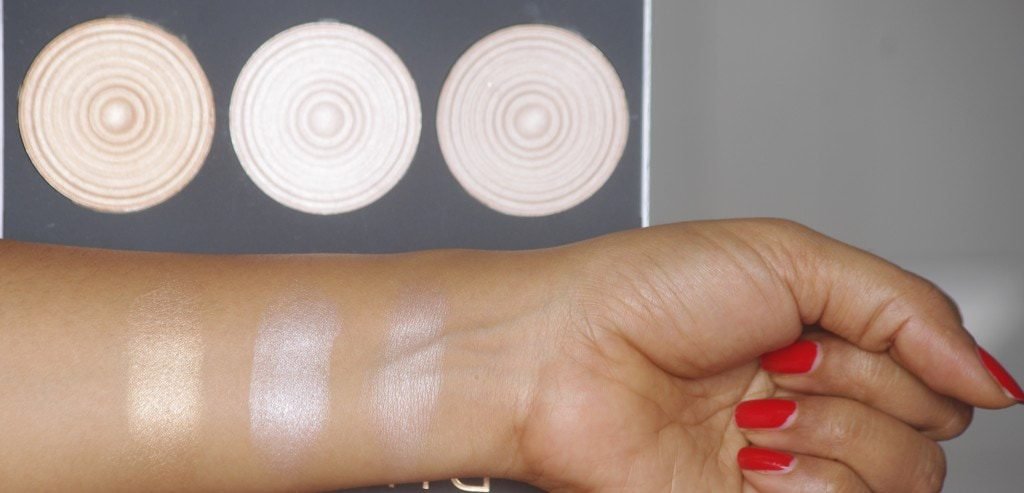 Shimmer:
There is no shimmer in these highlight shades. There is a subtle sheen but no shimmer. If worn lightly, the colours would hardly be noticeable. Great to be worn on sunny days when you don't want your highlighter to be obvious and too 'on-your-face'!
Lasting power:
The colours stuck around for 3-4 hours on my oily cheeks before being completely washed out by sebum.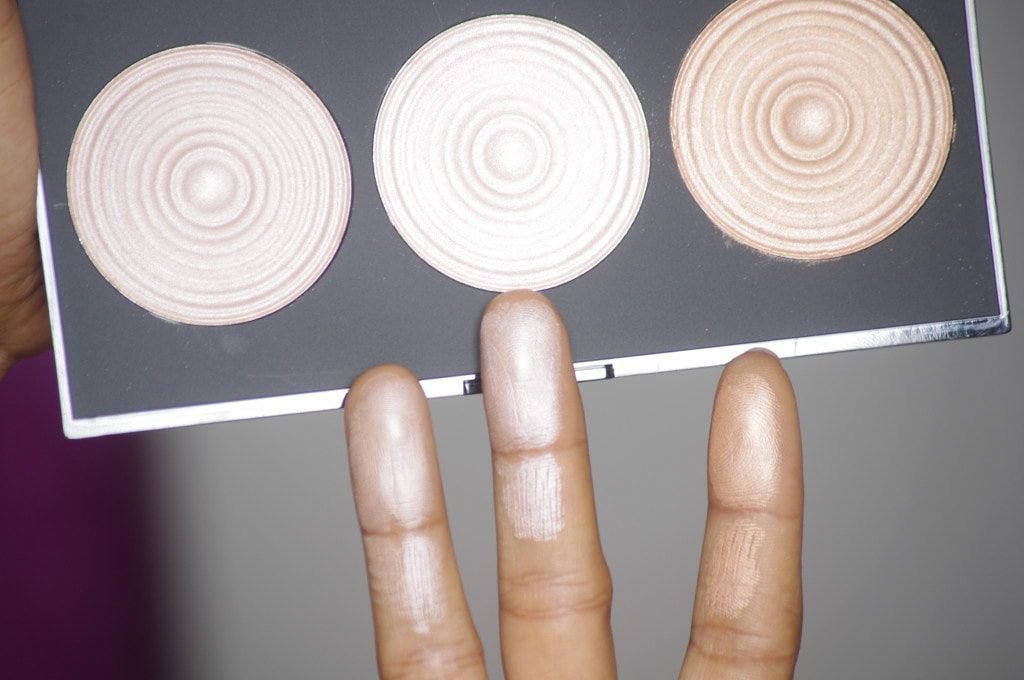 HITS:
Great selection of highlighters to suits most skin tones.
An affordable dupe of super expensive Hourglass Ambient Lighting palette.
Impressive packaging. Sturdy box with large sophisticated mirror.
No over-whelming glitter/ shimmers. Ensures a subtle glow.
Sheer to medium intensity of face. Suitable for beginners and those who hate a disco-ball like highlighting.
  MISSES:
The pigmentation could have been better.
Needs constant building to be shown on the face.
The first two shades might appear flakey if over applied.
Name of the colours should be mentioned on the packaging and not just on the website.
Contains parabens.
Salon Guru India Rating: 3/5
Final Verdict:
It is a nice palette for beginners and those who like it subtle. If you are looking for more intense highlighters then go for other options by Makeup Revolution including Goddess Of Love, Goddess Of Faith and Golden Goddess.