Today, I am reviewing WOW Apple Cider Vinegar Shampoo.
I always look out for gentle and chemical-free hair products. So, when WOW ACV Shampoo, which is free of Paraben and Sulfate, was sent to me for review purposes, I was quite glad.
Paraben and Sulfate are harmful chemicals that corrode the hair gradually, leaving them damaged and frizzy. So, it is highly recommended to use milder shampoos to retain hair vitality.
PRICE:
INR 399 For 300 ml
Availability :
vailable online on all major e-retailer websites:
Amazon
Flipkart
PACKAGING:
The shampoo comes in a convenient pump packaging, which makes it hygienic and travel friendly.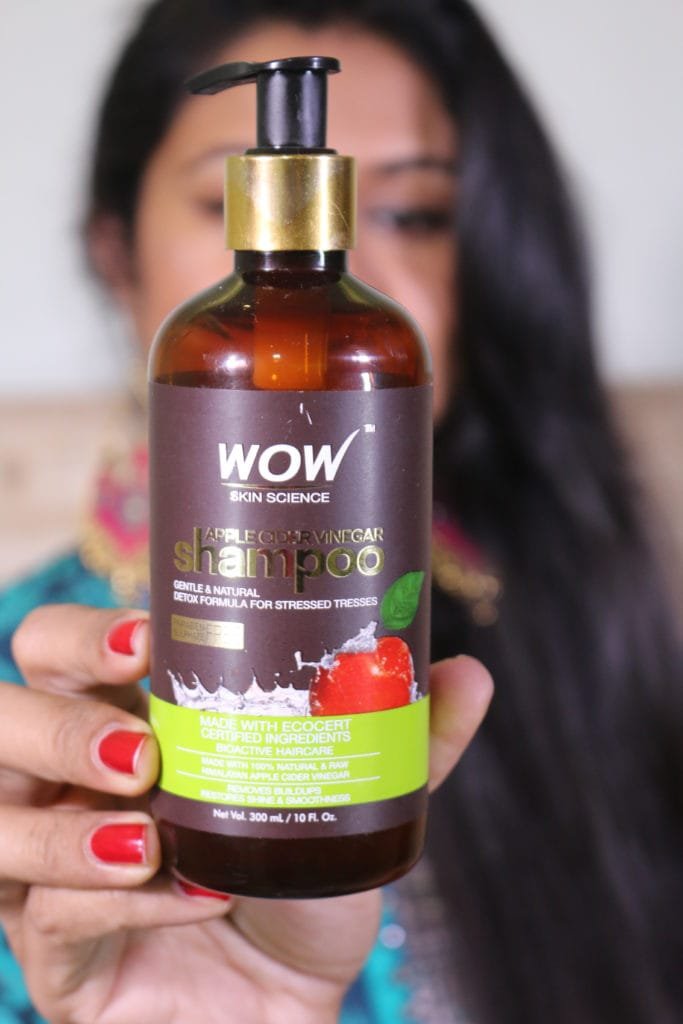 What does The Product claim?
The Wow Apple Cider Vinegar Shampoo claims to be absolutely free of Sulfate and Paraben. Sulfate is widely used in shampoos to make them foam. It, however, damages the hair in the longer run.
The product also is said to be made of Ecocert certified ingredients including 100 percent natural raw Himalayan Apple Cider Vinegar.
ACV is known for its detox properties and effectively removes dirt, grim, and product build-ups gently. Moreover, the shampoo is alcohol and cruelty-free as well.
Fragrance & Product Texture:
The shampoo has a warm and pleasant smell of fresh apples, which is subtle and not over the top. If you don't prefer fragrant hair products, it would not bother you much as the smell vanishes after the wash.
The product is light golden in colour and has a balanced texture, which is neither too thick nor too runny. This also makes it spread evenly in wet hair.
Reality Check:
As the product is gentle and free of sulfate, it does not lather up in shower like regular shampoos. It is also very mild and doesn't leave the hair dry, which makes it ideal for everyday usage.
Though, in case of oiled hair, a lot of product would be required to make the hair absolutely clean. For my long hair too, I had to pump out too much product every time given to its mildness.
The shampoo, however, left my hair soft and manageable.
You May Also Watch The Review Here :
Also Read : WOW SKIN SCIENCE ACTIVATED CHARCOAL MASK REVIEW