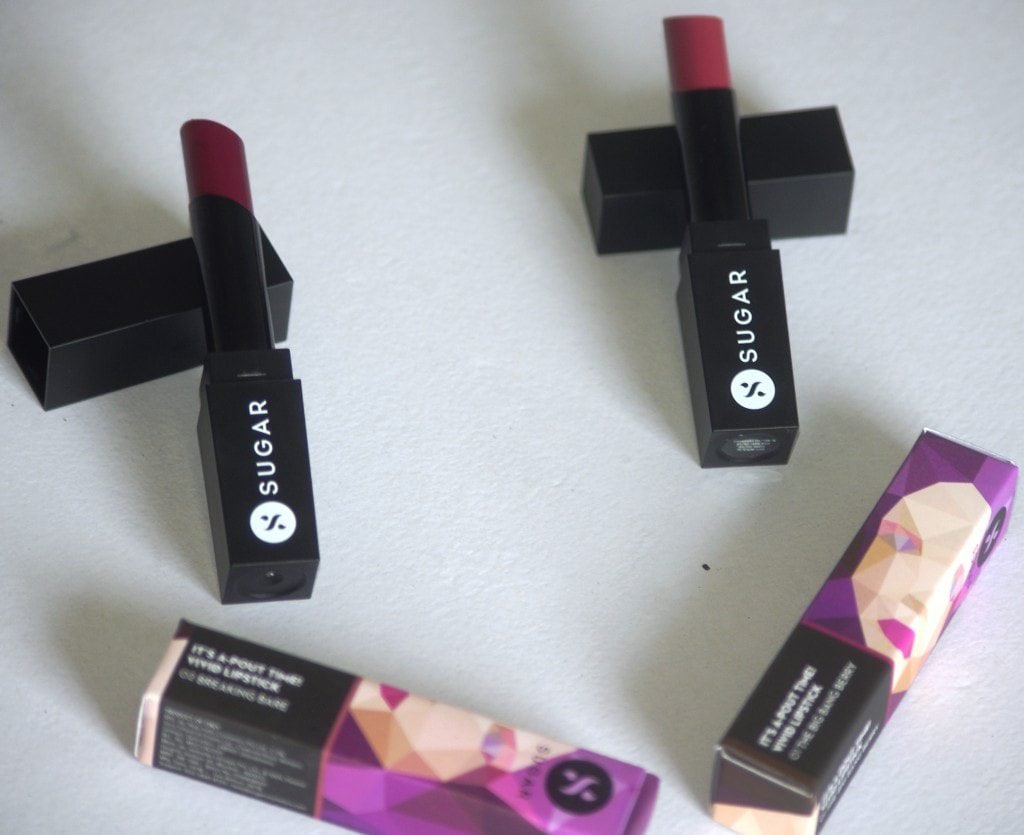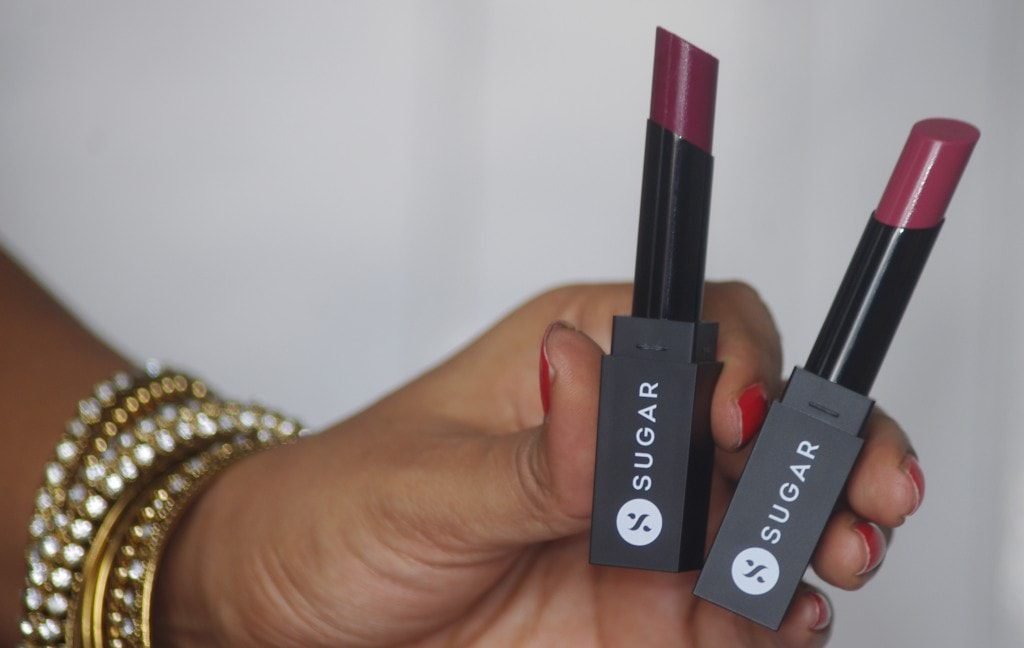 After lip crayons, eyeliner and kajal, the European brand Sugar Cosmetics has launched lipsticks in India now. It's A Pout Time Vivid Lipsticks are available in four shades :
01 The Big Bang Berry (Wine)
02 Breaking Bare (Rose Pink)
03 Mad Magenta (Magenta)
04 Coraline In The City (Orange-Coral)
I purchased the first two shades on its launch day and after using them for a week, here is my  Sugar Cosmetics It's Pout Time Vivid Lipstick! 01 The Big Bang Berry and 02 Breaking Bare- Review and Swatch.
Price:
INR 599 for 3.5 gms
Available:
Available at : Amazon
Packaging:
Like other products by the brands, It's A Pout Time Vivid Lipsticks too have the signature Sugar appearance. Abstract art of the outer paperboard carton and a sleek design. The lipstick's inner packaging is, however, bulky and has sharp square edges.
It does not look soft and feminine as a lipstick should look yet the packaging is compact and helps the cap remain intact tightly even when it gets drowned in the depths of your handbag. This makes the product quite travel friendly and leak proof. The lipstick has a regular twisting wand and is not waste prone as Sugar's lip crayons (Read my review of Sugar Cosmetics' Matte As Hell Lip Crayon here.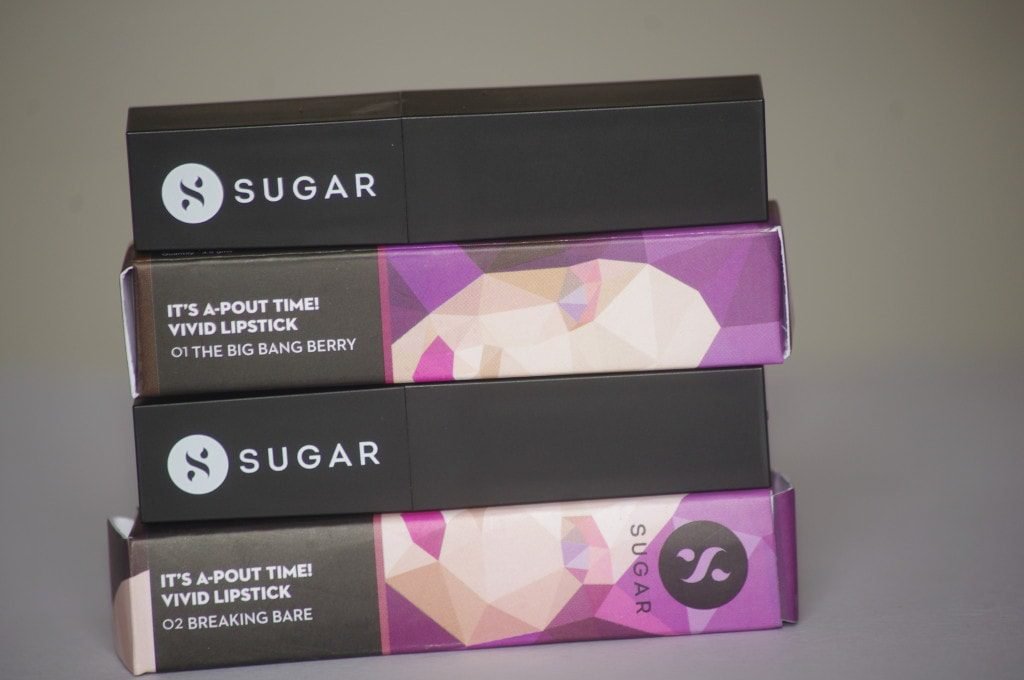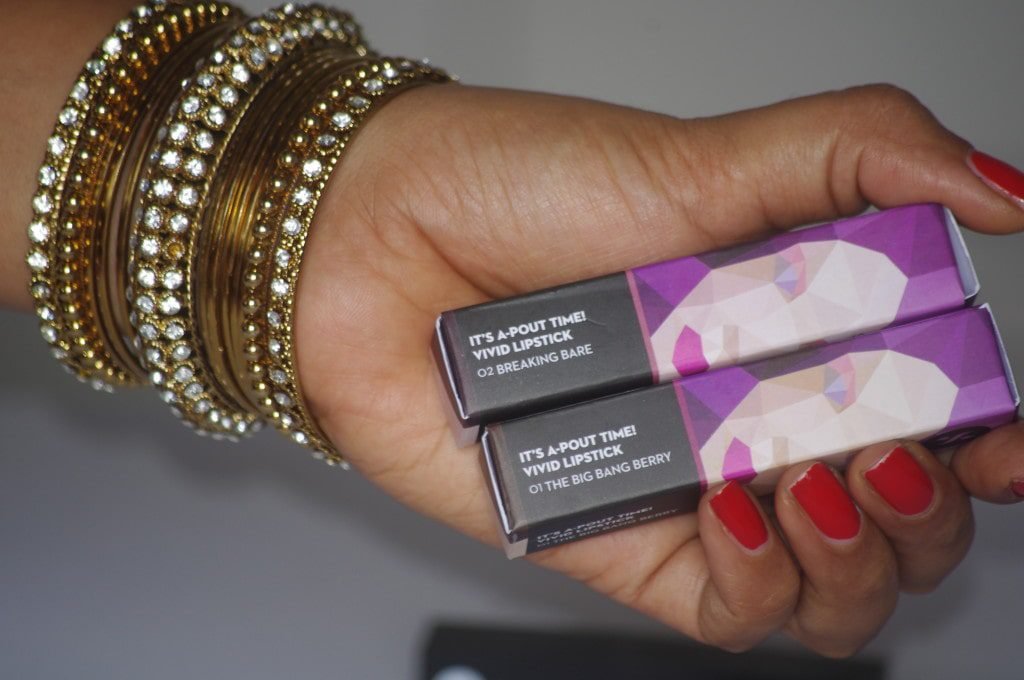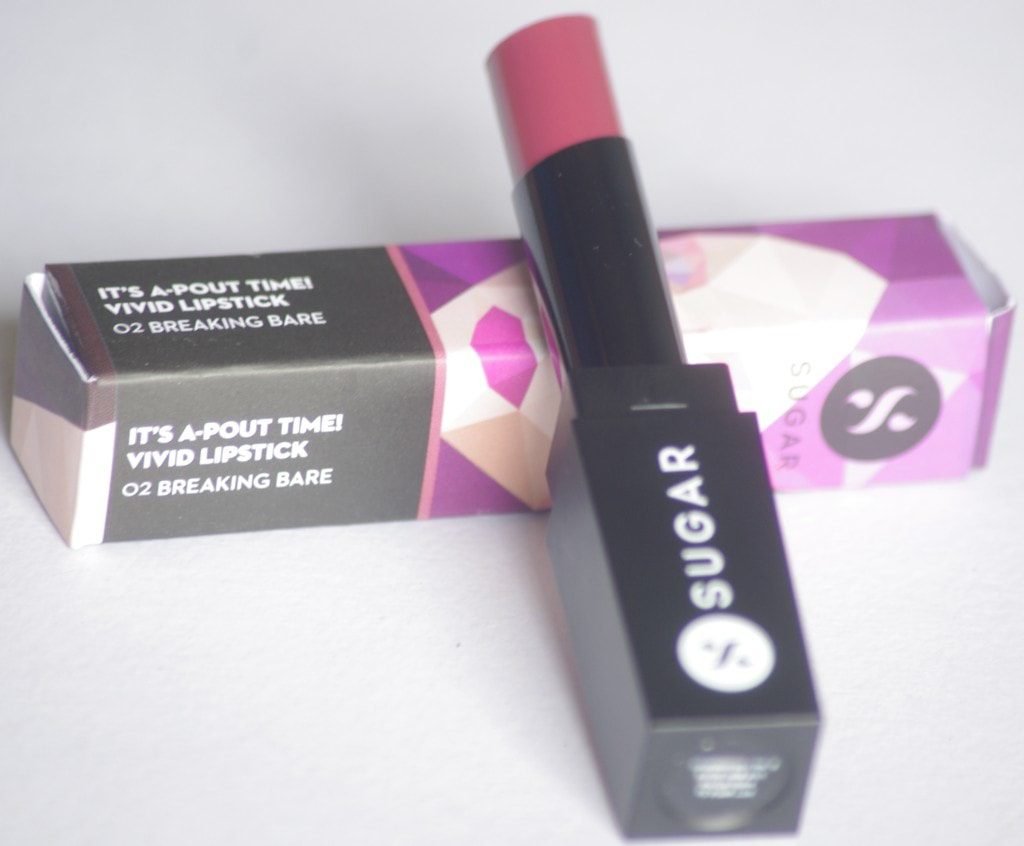 Ingredients: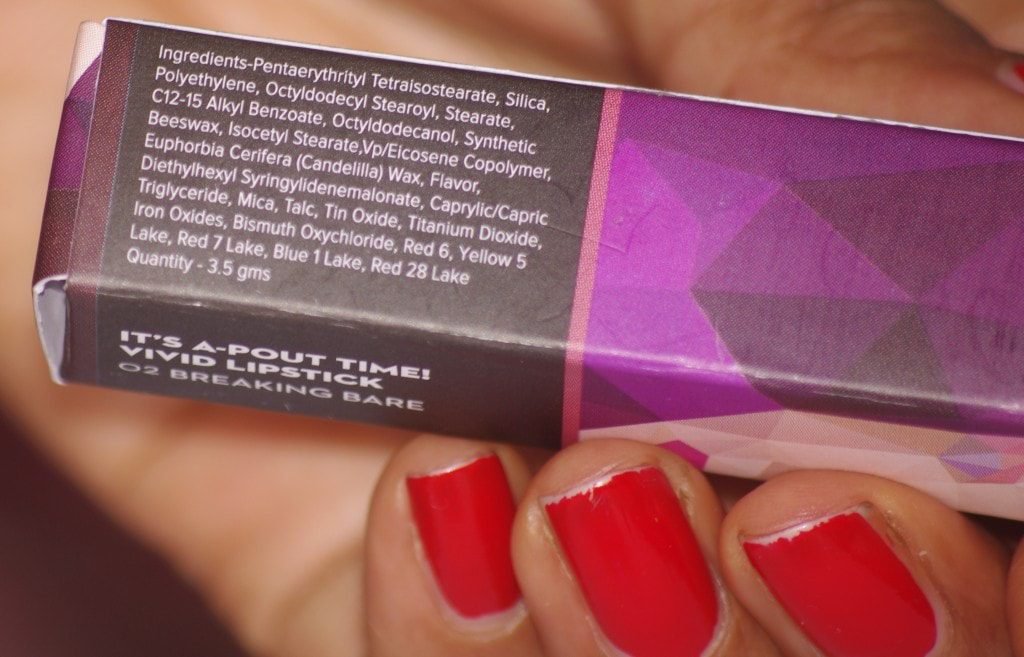 What It Claims?
These classic matte lipsticks are creamy and moisturizing. This lipstick combines the look of a classic matte lip with the benefit of incredible comfort. Enriched with micronized pigments and silica micro-beads, this matte lipstick glides on easily and settles to a gorgeous matte finish. SUGAR It's A-Pout Time Vivid Lipstick has a creamy consistency that moisturises and spreads evenly on the lips. The stunning shades are highly pigmented and light-weight, providing maximum coverage in a few swipes. FDA approved, these lippies are free from mineral oil and parabens. (Sourced from Sugar's website).
How To Apply?
Exfoliate and nourish thoroughly before application. Start with the centre of your upper lip and slowly glide across, applying evenly on the bottom as well. Blot with a tissue and reapply for an ideal matte appearance. Using a lip liner is recommended for sharp & defined lips.
My Experience With The Two Shades:
I have never been a fan of matte lipsticks solely because they wreck havoc on my already dry and ever chapped lips. I would layer up hydrating balms under and even over the lipstick to calm down my parched lips, thus, totally ruining its sexy matte effect.
It's A Pout Time Vivid Lipstick is like Manna From Heaven for those who want to rock a matte lip yet avoid cracking it. The 'made in Italy' product is buttery and smooth on lips unlike the quintessential matte ones. Wearing it the whole time, my lips didn't feel thirsty for moisture or even uncomfortable.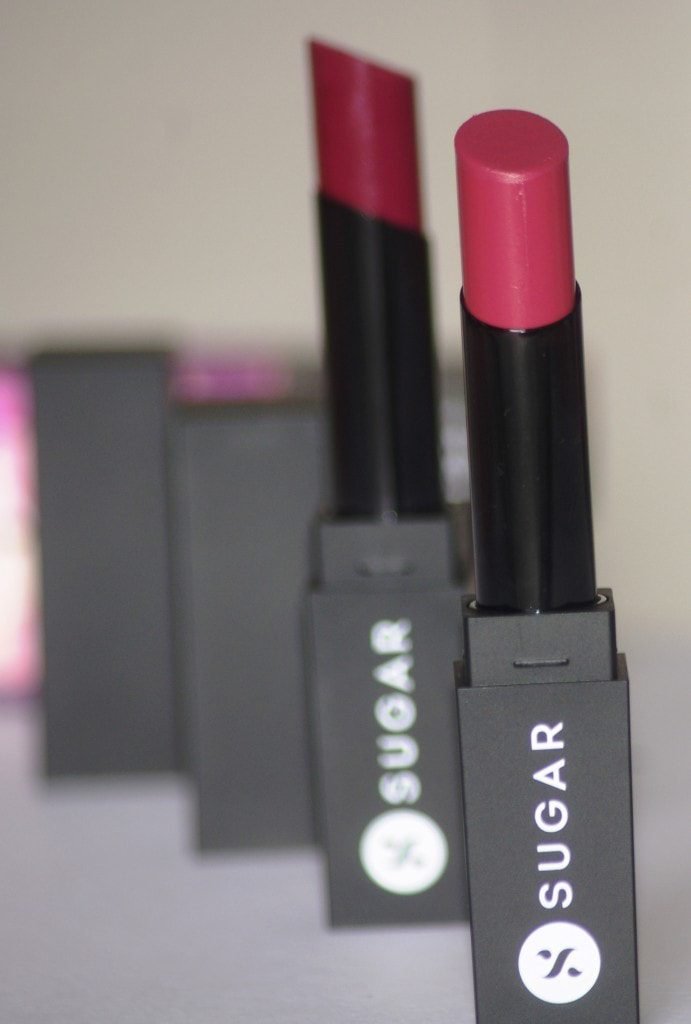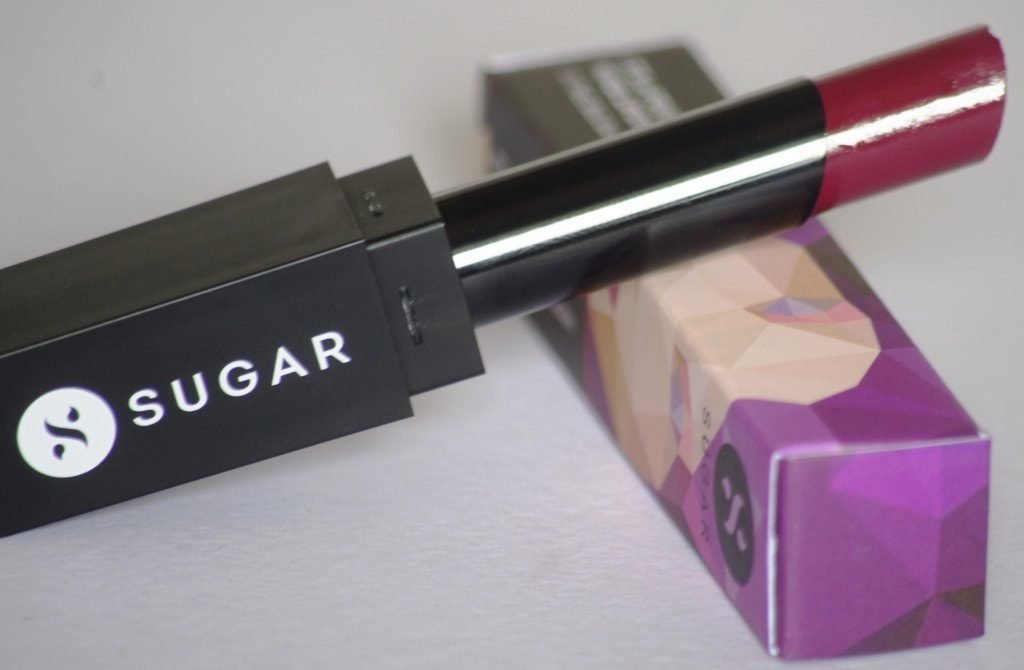 Texture and finish:
The product has a creamier consistency, better than Sugar's lip crayons, and feels smooth on application. It glides evenly on the lips and doesn't leave dry patches behind. My lips felt hydrated and well defined. The finish is matte yet the creamy appearance is obvious until blotted.
Color and Coverage:
Both the shades are highly pigmented and provide full coverage. I love wearing high coverage lippies as my lips are unevenly dark towards the edges and these two two didn't let me down. The 01 Big Bang Berry is a gorgeous plum and wine like shade, perfect for fall/winters or evening out. It deserves a special mention for providing full coverage and that strong mystical look. 02 Breaking Bare, on the other hand, is soft nude-rose feminine colour, ideal for day wear.
Staying prowess:
I typically wear any lipstick following a light coat of lipbalm to enhance its staying power. A well nourished lip makes a great canvas for the lipstick to pop and stay put for longer. Blotting also helps in a prolonged wearing. The Vivid Lipsticks remained intact for almost 3-4 hours, surviving snacks, beverages and a motor mouth like me, LOL! After that it had to be retouched. The product transfers a lot too on just anything including mugs, straws, tissues and clothes. So be cautious!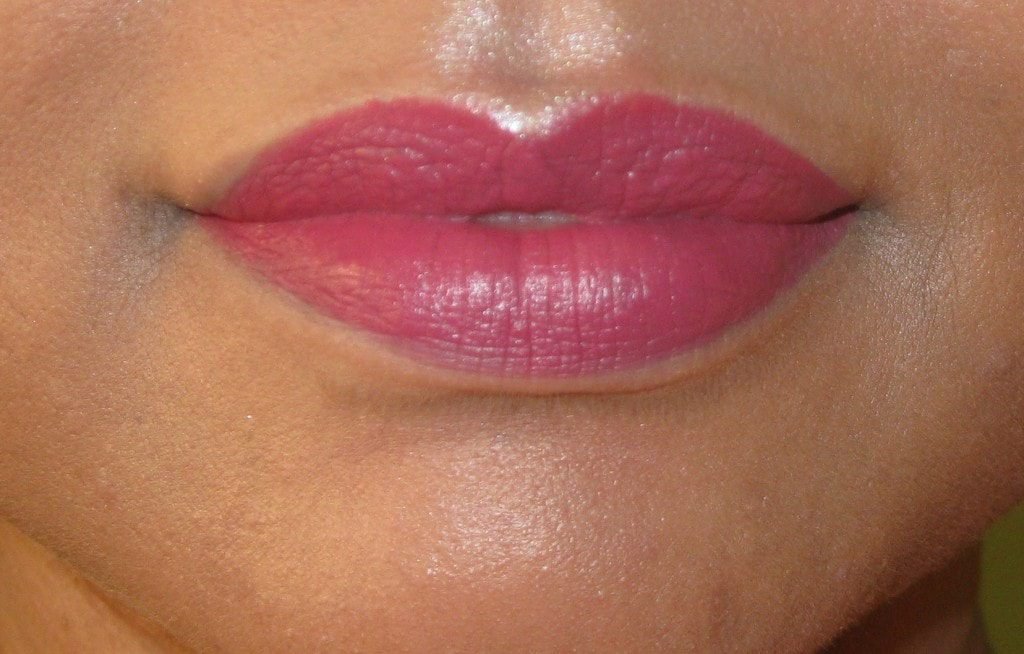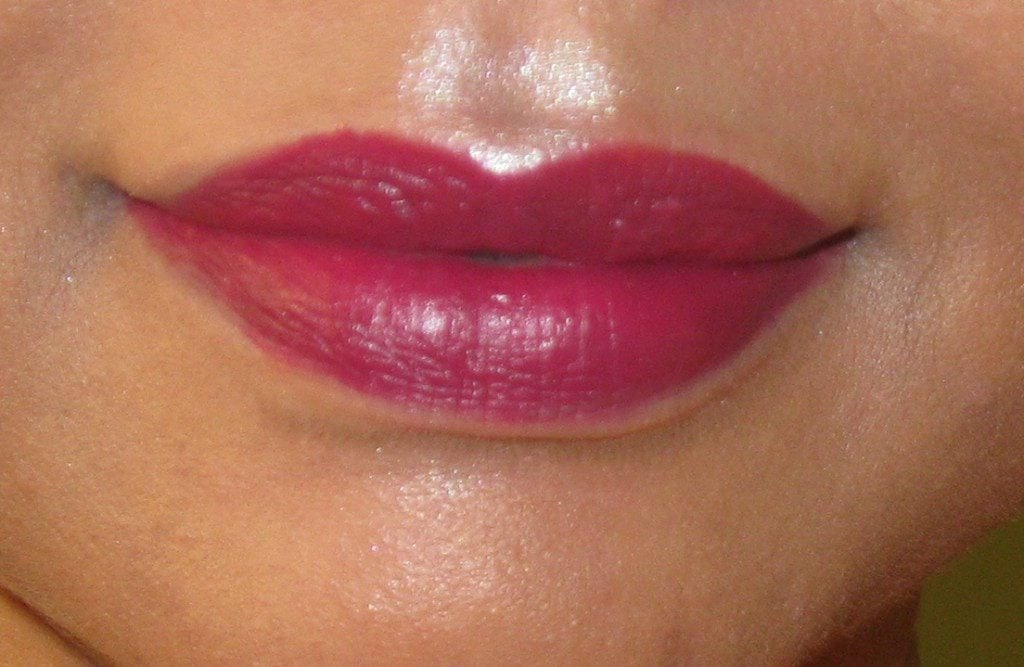 HITS:
Beautiful colours and highly pigmented
Provides full coverage
Glamorous Matte finish
Not typically drying on lips
Free of parabens and mineral oils
MISSES:
Packaging is a blocky and bulky not feminine enough
Finish appears slightly creamy if not blotted.
I wished for a better staying prowess. Transfers a lot.
Salon Guru India Rating: 4/5
Also Read: SUGAR COSMETICS MATTE AS HELL CRAYON LIPSTICK