Hello everyone,
Though markets are flooded with shampoos claiming to suit different hair types, it is sometimes gets tricky to choose the one that works the best for you. Especially for those with frizzy, damaged and difficult hair! Every shampoo claims to sooth and nourish your mane with more fruity and natural ingredients in its bottle than found in your meals. Today, we assess similar claims of an 'exotic' shampoo brand.
Price:
INR 625 for 385 ml
Availability:
Well, since I bought it from a wholesale supplier it came much cheaper than the MRP.
Organix products are available in pharmacy superstores, high end beauty supply stores and also online at amazon,flipkart & nykaa. Unfortunately, they aren't quite visible in smaller shops and even smaller towns.
Packaging:
Organix products are distinguishable due to their cute packaging and peppy colours. The Acai Berry Avocado shampoo comes in a sturdy lilac coloured bottle with a golden crown. The colour could be chosen to match that of the acai berries. Moreover, the bottles are eco-friendly and made of recycled materials, which is so cool.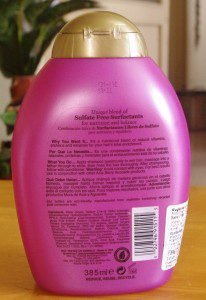 What it claims to do?
Acai berry is a tropical 'super fruit' found only in the dense Amazon rainforests. It has proven properties of strengthening and nourishing hair. Avocado, again, is an established hair growth stimulator. Organix promotes this shampoo as 'an exotic nutrient luxurious blend of antioxidant rich acai berry extract and guava to enrich hair while avocado and Moroccan argan oil to moisturize tresses and create a shiny, smooth, frizz-free finish'. Well, let's look at the ingredients too.
Reality Check:
My hair is extremely long, thick and dry at end! I oil regularly and, hence, shampoo frequently. Most shampoos either make my hair too dry after washing or don't remove oils and grease property, if I choose a milder product like baby shampoos. My experience with Organix Acai Berry Avocado shampoo was pleasant as it has the right intensity that cleanses hair without making it brittle.
It lathers well and has the most epic fragrance ever! I took an imaginary walk in flower orchid filled with very beachy, tropical wild flowers and juicy berries, all while shampooing. Some may find it a wee too strong but I loved it. The consistency is quite thick and very modest amount of shampoo is required if you have shorter hair. With my hair length, it has lasted more than two months. Great value for money. My tresses feel fuller and nourished after each wash, however, I always follow with a conditioner from the same organix line.
Hits:
Nourishes hair well. Even my dry ends appeared relaxed.
Epic spa like fragrance
Cruelty free, not tested on animals. Eco-friendly packaging
Value for money. One bottle lasts reasonably long.
Isn't too hard on hair. Those with dry, damaged and tangled hair may certainly try.
Misses:
Non-availability. Unlike other brands, Organix isn't easily available in regular stores.
Some may find it expensive.
Not available in smaller travel friendly packaging.
Salon Guru India Rating:
4 out of 5.
I totally recommend it to all with frizzy and dull hair. Even those planning to ditch their hard shampoos for a milder yet effective formula.