Bogus packages and substandard services at Kandivali Lokhandwala branch.
The unforgiving Indian winters leave skin flaky and hair frizzy and dry. This season, I was looking for a bouquet of affordable hair and skin services to pamper myself. On a random visit to the newly inaugurated branch of Radiance Salon and Spa in my neighbourhood i.e. Kandivali Lokhandwala-Mumbai, I was asked by the attendants to avail the introductory beauty and hair offers.
They pushed that there are several packages to suit everyone's need for different prices including Rs 999, Rs 2500, Rs 3500 etc. They also insisted that I buy the higher priced packages as they included multiple services to suit my requirements. I was a bit apprehensive in investing much as it was my first visit to the salon and I wasn't sure if the services are good enough. Secondly, the staff looked a bit under-trained and un-groomed. Just to test their skills, I asked for an eyebrow threading. To prove my qualm, the staff's movements with the thread were very amateur-ish. However, the salon's main attendance Khushi kept on asserting that I go for atleast one package and shouldn't judge the salon on the first service itself. Moreover, she claimed that the service schedule is flexible and I may avail different services on different days as per my convenience.
I then decided to buy their Rs 2500 package that included an Oxygen facial, bleach, manicure, pedicure, full arm waxing and hair spa as the services seemed many for that price. I confirmed with Khushi and another attendant Kanchan if they are okay with the length of my hair for spa. I have long and thick hair and most salons charge extra for maximum services considering the length. She repeatedly assured that everything will be taken care of! Once satisfied, I made the payments and fixed an appointment for the coming weekend.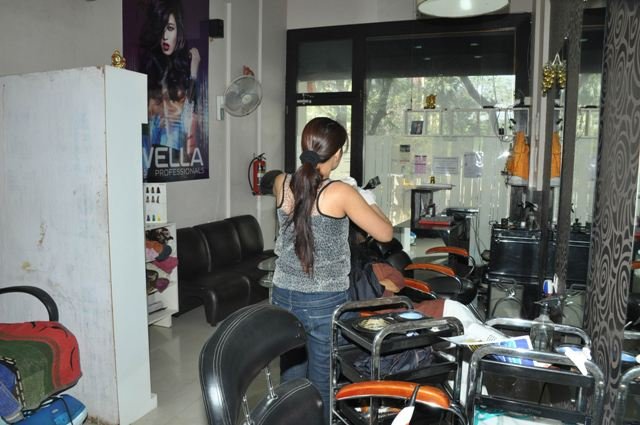 What really happened!
I punctually reached the salon on the day of my appointment only to be kept waiting. There were other clients who were being served at the time I was fixed an appointment on. I enquired with Khushi who didn't seem interested to hear me out as she was busy selling those packages to other clients that day. She then coldly told me that my hair is too long not to be charged extra beside the package cost and my hair spa will stand canceled. I lost my patience as this was something I already had confirmed with her. Also, I was tired of waiting despite being on time.
On confronting her, she nonchalantly said that the owner of the salon had later dismissed the idea of including service for my hair in the package. So, now I could avail all other services excluding the spa. I wasn't been given what was promised and hence asked for a refund. She said that the authority of refunding doesn't lie with her and the owner is out of the town. On sensing my rising temper, she eventually offered to provide all the promised services and asked me to calm down.
Well, that day I was given a bleach, facial and wax of which the facial was brief enough to be called as a cleanup. I insisted on hair spa too because I didn't want to face the ordeal of arguing with the staff another day as well. Though, Khushi maintained that it being a weekend, there isn't much staff to handle the rush and requested me to arrive some other day.
Another day, another pain!
On the next appointment, I didn't find Khushi and Kanchan in the salon while another staff argued similarly on how the spa offer stands invalid for my hair. I again had to go through the pain of repeating everything to her and asked her to call up Khushi for further explanation. After much haggle, the hair spa I was given was a joke! After scarcely applying the spa cream, the attendant didn't care to massage and simply steamed my hair for a few minutes and rinsed. All of it didn't take more than 20 minutes. With the manicure and pedicure, the staff kept grumbling how the geysers have conked and there is no warm water along with required creams and scrubs. Imagine a manicure done while soaking your hands in cold water with no scrubbing and massage. Also, there are no proper tables for manicure. They simple put a bowl of water on your lap to dip your hands in. I had water splashed on my clothes with that bowl on my lap. On complaining, they simply put a tray under the bowl that was filled with hair from a previous hair cut. Pathetic!
Final words:
Don't fall for their bogus packages as the services given under them are substandard. So, a facial will actually end up being a cleanup, manicure & pedicure process will lack the essential steps. Also, once you pay in advance, you cease to be privileged and become a liability for the salon. New clients will be valued over you and the most unqualified staff will be reserved for you. Also they keep pushing for buying packages and more packages. I can't comment about the other branches but the Kandivali Lokhandwala one did disappoint me real bad.