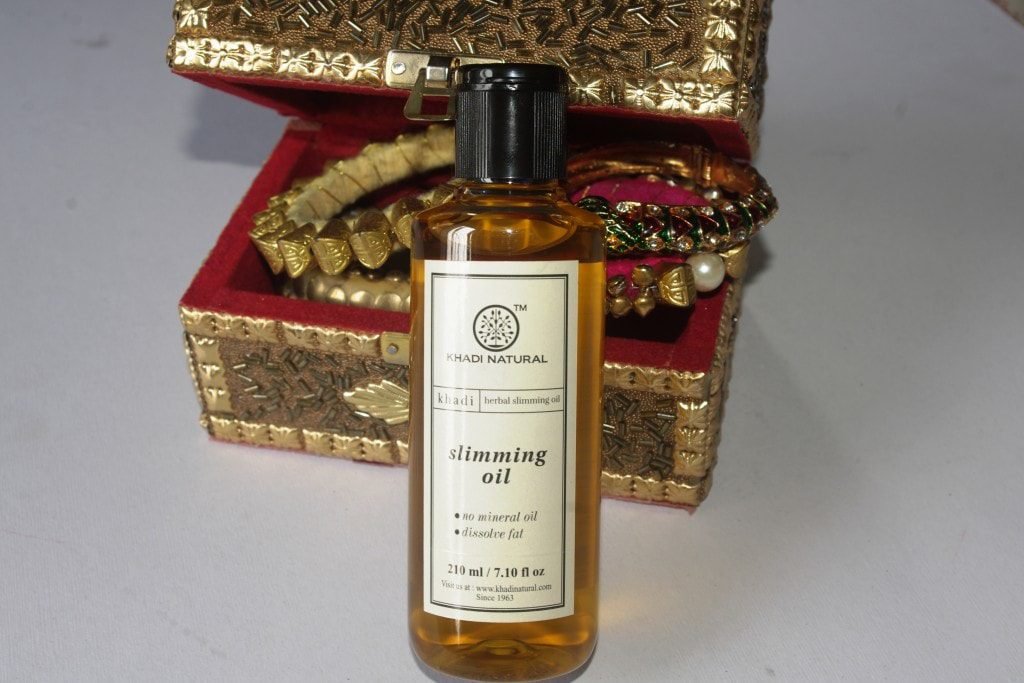 Could there be a magic potion to tone down your flabby arms & thighs or to burn that ugly cellulite out? Well, atleast the homegrown brand Khadi Natural will nod in a big Yes! And I don't disagree too! Factors as lack of exercise, unhealthy eating, pregnancy or even age cause cellulite on tummy, arms and the lower body.  Not to mention the accumulation of fat on these areas. Besides dietary restrictions and workout, one needs something extra to accelerate the toning process. I had read rave reviews about Khadi's Anti-Cellulite Oil and was tempted to try their newly launched slimming oil. So, here is my Khadi Natural Herbal Slimming Oil Review and first-hand experience.
Price:
INR 600 for 210 ml. (I got it for a flat 50% off on an online sale)
Availability:
Available at Khadi outlets across India and also with Flipkart, Amazon, Nykaa among other e-retailers.
Ingredients:
Packaging:
The packaging is signature Khadi one and resembles its other products including shampoos, conditioners and toners. The oil comes in a transparent bottle with a black flap cap and could be poured through a small nozzle at the cap. The lid is secured tightly and is travel-friendly.
What It Claims?
Especially designed to burn down the cellulite and allow you to reduce the extra fat on body. It stimulates and accelerates the metabolism. Thus, increasing the rate at which fat is dissolved. It also works as an effective analgesic oil that is commonly used in preparing oils that relieve muscles and joint pains.
How to Use?
Massage slimming oil in a circular motion till the oil is completely absorbed. Use generously over skin to help hands glide easily. Use twice everyday preferably around bath or post workout to boost blood circulation.
My Experience With It.
Being a lazy bum, I quit exercising lately and had put on flab around thighs and arms. Even after resuming workout, I kept looking for remedies to fasten the toning process and, hence, decided to try this oil claiming so!
First thing first, relying solely on such products to get back in shape is inanity. Toning oils and creams only prop up your endeavour to be fit through exercise and diet. Also, the results are slow and not instantly visible. Especially, when the product is largely natural based and doesn't contain fast acting chemicals!
I coupled up my massage routine with my workout regime for best results. And for been using it twice a day i.e after bath and before bed for almost a month now, I thought of sharing the results.
Texture and fragrance:
The oil is light in texture that quickly gets absorbed in the skin following a light massage. Being mustard and turmeric based, it is golden yellow in colour and, thus, stains! So, be careful with your expensive clothes and bed sheets. High on natural ingredients, the fragrance is herbal and tends to lingers on. If you are not fond of fragrant body oils, please avoid as its smell stays on your clothes as well. I totally loved its fragrance though!
Effectiveness:
I worked the oil up in upwards movements all over my body with special focus on flabby areas every time. It instantly boosts the blood circulation as one could feel a tingle and the blood rushing in veins. Over prolonged usage, the flab and cellulite began visibly reducing. I observed a big difference, especially on my inner thighs. The oil is also effective in calming the strained muscles and paining joints. It cured my soar calves post a run. Recommended for older people and expecting mothers with aching joints and limbs.
Moreover, the Kumkumadi and Turmeric content made my skin look glowing and even-toned after every massage. The suppleness is still improving day by day. I am through with my first bottle and already planning to repurchase.
HITS:
Coupled with workout and right diet, this product works.
On regular usage, helps in busting cellulite.
Has calming effect on strained muscles and relieves joint pains.
Made of rare and effective herbs. Largely natural.
The Kumkumadi and turmeric content in it made my skin glowing and supple.
The fragrance is so addictive.
Boosts blood circulation
Paraben and mineral oil free
MISSES:
Slow in action.
Stains due to mustard and turmeric contents
Not for those who prefer fragrance free products.
Not easily available
A bit pricey.
Salon Guru India Rating: 4/5
Final Verdict:
This is a versatile product and could definitely be given try. Besides its slimming and anti-cellulite properties, it works towards muscle relaxation and for improving the skin tone. Just be patient enough for it to show results.