Kay Beauty has gained quite a loyal fan base in a very short span of time, ever since its launch back in 2019.
Primarily because, despite being indigenous, the quality of its products is at par with international brands.
Actor and founder Katrina Kaif has wisely and rightly used her popularity and social media presence to create a hype around the brand.
Though Kay Beauty offers a wide and ever-growing range of products including Blushes, Eye Shadows, Eye Liners, Lipsticks, Primers, and Nail Polishes, it is the foundations that have been best received so far.
The facts, that Kay Beauty Hydrating Foundation is
1- Exclusively formulated to match Indian skin tones.
2- Offers a broad spectrum of shade selection.
3- Promises impressive quality as per international standards
have all worked its favor!
After using it for the last one year straight and buying 4 bottles, one after the other, I can safely conclude my experience through this detailed and honest review.
Read on for the love of celestial beauty that Katrina truly is!
Kay Beauty Foundation Packaging
For foundations atleast, it is criminally inappropriate to come in a bottle without a pump dispenser.
Especially with Indian brands, foundations are sold in bulky and open-mouthed bottles with a slouchy wand or applicator. Which is not just inconvenient but also quite unhygienic.
Full points to this one for a sleek bottle and a pump dispenser.
This slender bottle doesn't claim much space in your vanity pouch.
Kay Beauty Foundation Availability:
It started off as a Nykaa-exclusive brand.
But has since expanded beyond the website to Nykaa's offline stores in 1600 Indian cities and was made available in general beauty and lifestyle stores. Kay Beauty pop-up stores were launched very recently.
Check on Google for a store near you or order from Nykaa
Kay Beauty Foundation Price:
At INR 1,200 (roughly USD 14) it is more expensive than most drugstore foundations. Most Indian brands as Lakme, Colorbar, Sugar, Mamaearth, Blue Heaven, to name a few, have priced their foundations for much less.
Kay Beauty has, in the past, justified their pricing citing quality and packaging costs as key factors.
Pro-tip : Look for festive sale at Nykaa.com where you may grab a good deal. Twice, I was able to buy it for INR 900 only.
Kay Beauty Foundation Ingredients:
Kay Beauty Foundation Shade Spectrum:
Katrina has earlier emphasized on how her team worked tirelessly for years on aspects such as formulation and shade spectrum to suit all desi skin tones.
The brand offers 20 shades as of now with, hopefully, more to come.
For all wider shade categories including Light, Medium, Tan and Deep, there are five shades available in each.
In simpler words, five shades for those with light skin, five for medium skin tones and five each for Dusky and Deeper complexions.
That's a lot! Honestly, that's really a wide bandwidth to choose from.
It can put Indian cosmetic giant and a category veteran like Lakme to shame, for being stuck with its 5-6 basic shades for decades altogether.
Yes, 650 million of India's women population can easily be covered under just 5 shades. Wow…Slow Claps!!!
(Insert Kay beauty shade card pic from Nykaa)
My shade:
I tried my first Kay Beauty foundation when India was still under lockdown and the shopping experience along with delivery options were limited. Offline shopping for non-essentials was out of the question.
Being used to swatching shades at beauty stores before buying, it was slightly difficult to figure out my exact shade by purely looking at the online shade card.
To put things in perspective, Lakme 9 to 5 foundation's W240 Warm Beige and Maybelline Fit Me's 310 are the shades that work for my medium wheatish tone.
After much research and drawing swatch comparisons, I zeroed down Kay Beauty's 125 Y and 130 Y Medium. These two are a close match in the medium category where 'Y' stands for yellow (undertone).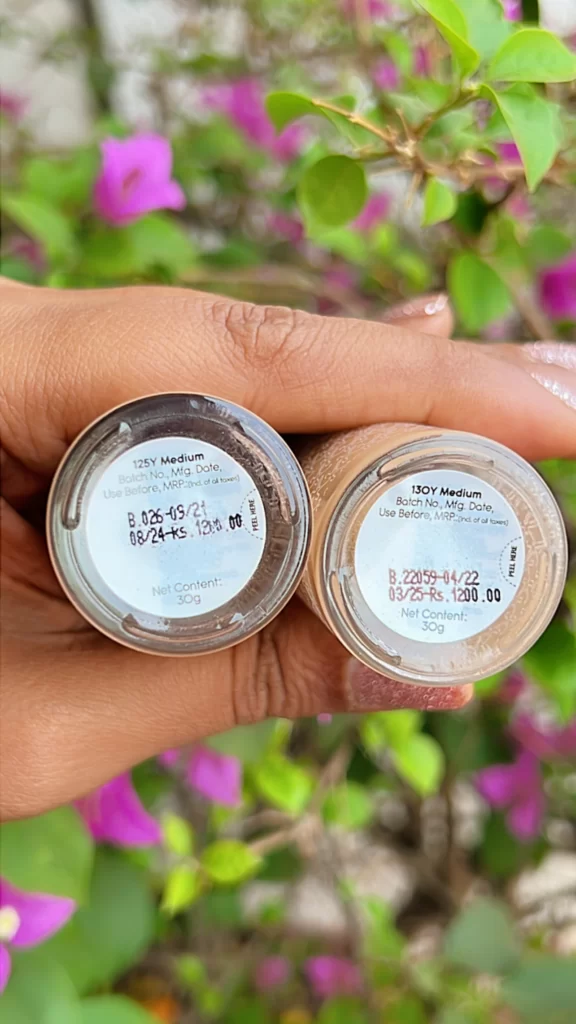 I switch between these two shades depending on what time of the day they are to be worn.
125 Y medium is slightly lighter and works great in the evenings and even in photographs. While 130 Y is a little warmer and appears better on hot humid days. It is a decent one for every day wear.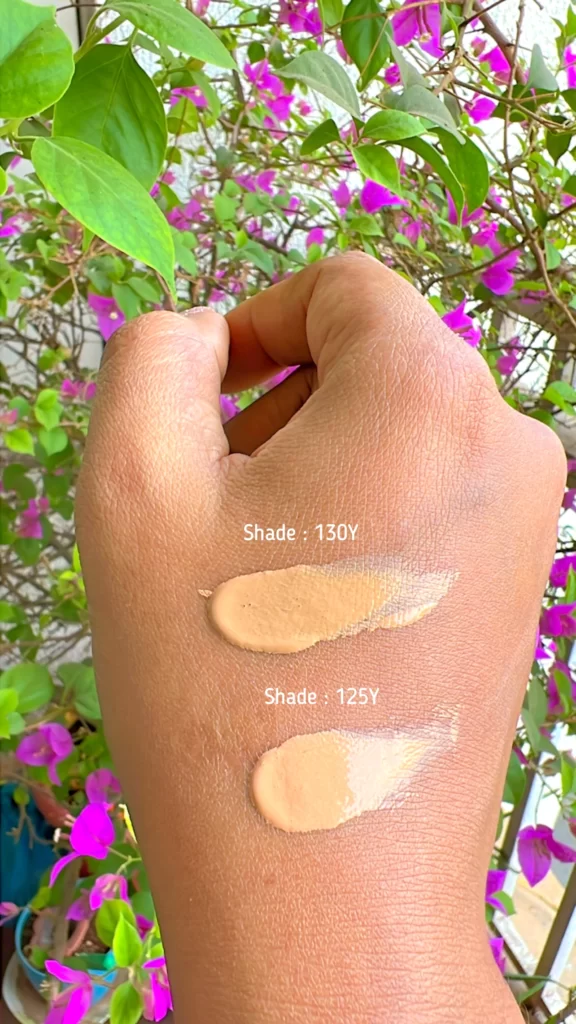 Kay Beauty Foundation Formulation :
As the name suggests, it is a hydrating foundation with a lightweight base. The consistency is neither runny nor thick and not even mousse-like. Anywhere between a BB cream and a sheer to medium foundation.
Key ingredients are Hyaluronic acid, Avocado and Mango Butter which make the formula moisturizing and comfortable for day-long wearing.
The product gets absorbed into the skin in a heartbeat and doesn't need much buffing.
For Oily skin: Doesn't turn the skin greasy. It is hydrating and appears fresh. Using a primer enhances its durability. Set with loose powder.
For Dry Skin: Hyaluronic acid makes the skin plum and well nourished. Moisturize the skin well and follow with the foundation.
It is alcohol and essential-oil free which makes it appropriate for sensitive & acne prone skin.
Kay Beauty Foundation Fragrance:
Officially fragrance-free! Not a common feature in most Made in India foundations.
Finish and Texture:
Being sheer to medium, the formula can be layered up and is definitely buildable. One layer is enough for that everyday nude to a natural finish.
However, for evenings and special occasions, a double coat could be applied for more coverage.
I usually wear a blurring primer under the foundation to conceal open pores and control oiliness.
Primer also helps the foundation stay longer and appear even and flawless.
It brings an instant dewy glow to the face even on the days when my skin appears dull and dehydrated.
The formula doesn't sit on the skin & spreads and gets absorbed easily.
After using it for over a year, I observed that it is not comedogenic.
My skin is oily in general with excessive sebum secretion around the T-zone.
Mattifying and thicker foundations clog the pores and I would experience a sudden bout of nasty blackheads. It didn't happen with this one.
Kay Beauty Hydrating Foundation is also a beginner-friendly foundation. Haven't used foundation ever or slowly transitioning from a BB cream to a 'proper' foundation? You can not go wrong with this one as it is blendable and doesn't appear chalky.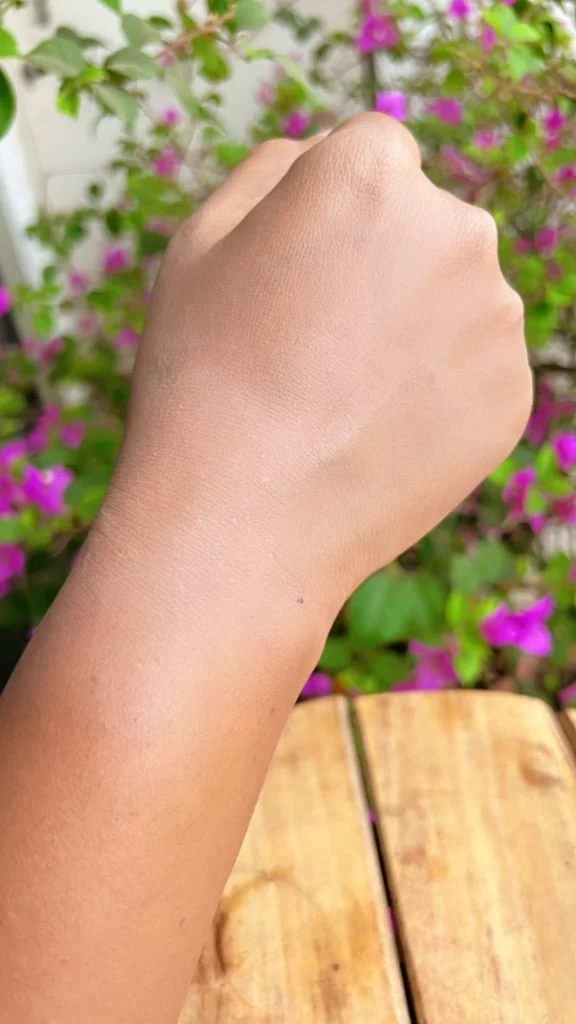 Does it Oxidize?
I read several reviews where people claimed that it oxidizes but I didn't surprisingly find it turning ashy which happens with Lakme and Mamaearth foundation. Try touching up with loose powder after 2-3 hours.
What did I like?
1- Natural dewy finish. Ideal for a No-Makeup look.
2- Highly Buildable and lightweight formula.
3- Very beginner friendly. Doesn't appear chalky.
4- Great Shade Spectrum, caters to a wide variety of Indian skin tones.
5- Comfortable all-day wear.
6- Non-comedogenic
7- Alcohol and essential oils free. Suitable for sensitive skin.
8- Blurs imperfections.
What I Didn't Like?
1- Slightly on the expensive side.
2- Needs touch-up after 4-5 hours, especially on oily skin.
Final Verdict:
Kay Beauty Hydrating Foundation is a beautiful natural finish formula. It has been my go-to foundation for most occasions. It feels like a second skin and wears comfortably for a decent number of hours even on my oily skin. Very beginner friendly and highly recommended for everyday wear.
---
Also read :
Swiss Beauty Makeup Fixer Natural Spray Review
Summer Hair Care 2023: Top 10 Tips To Protect Your Hair From Sun Damage
Eid Outfit Ideas 2023 | The Best of Lucknow Chikankari on a Budget
---