Scorching summers take a toll on our skin. Especially, oily skin becomes even more prone to acne and breakouts.
It is important to follow a proper CTM ( cleansing, toning and moisturizing ) routine to keep your face glowing and healthy-looking.
Today, I am sharing my review of the Dermafique Acne Avert Cleansing Mousse. It's a foaming cleanser meant to control and reduce acne and blemishes.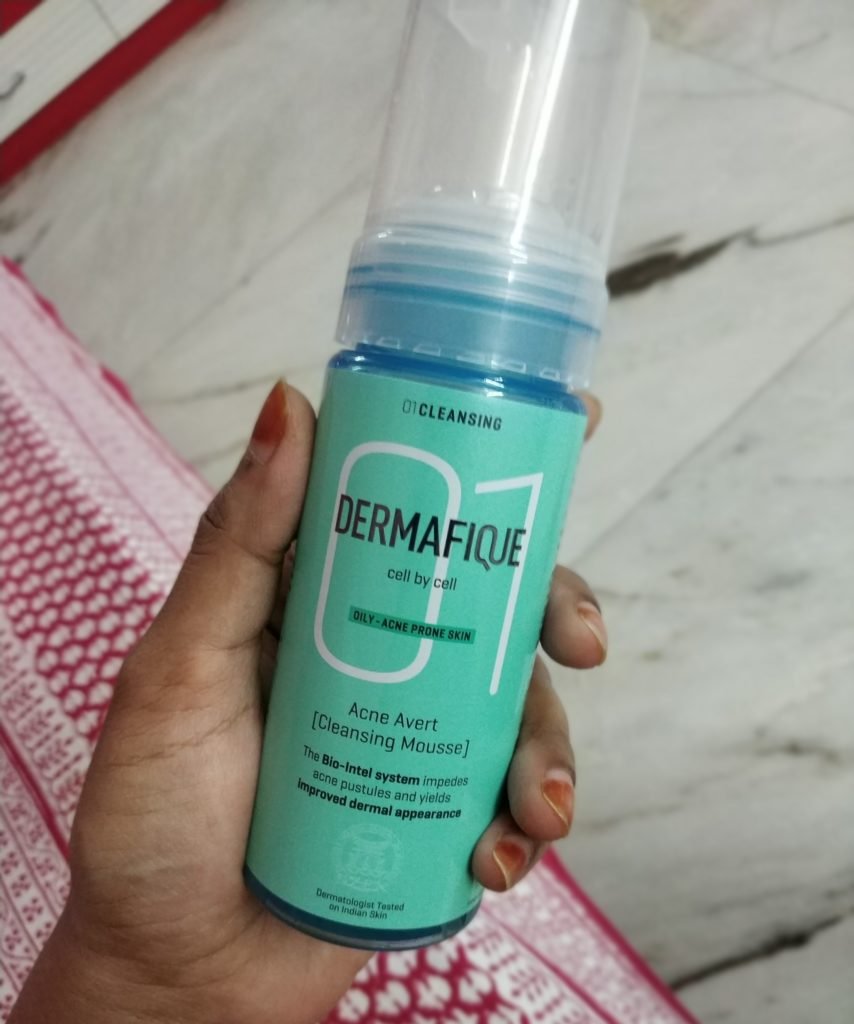 Ingredients:
Aqua, Laurel glycoside, cocamedopropyl betaine, glycerin, di sodium Laureth sulfosucinate, sodium Lauroyl sarcosinate, peg-7 gyceryl cocaete, secular glycoside,zinc pcs, salicylic acid,niacinamide,allantoin , d-panthenol, polysorbate 2o, sodium pca, tocopheryl acetate, dmdm hydantoin, tetra sodium edta, Fragrance, butyl hydroxy toluene, hexyl cin+namal, linalool.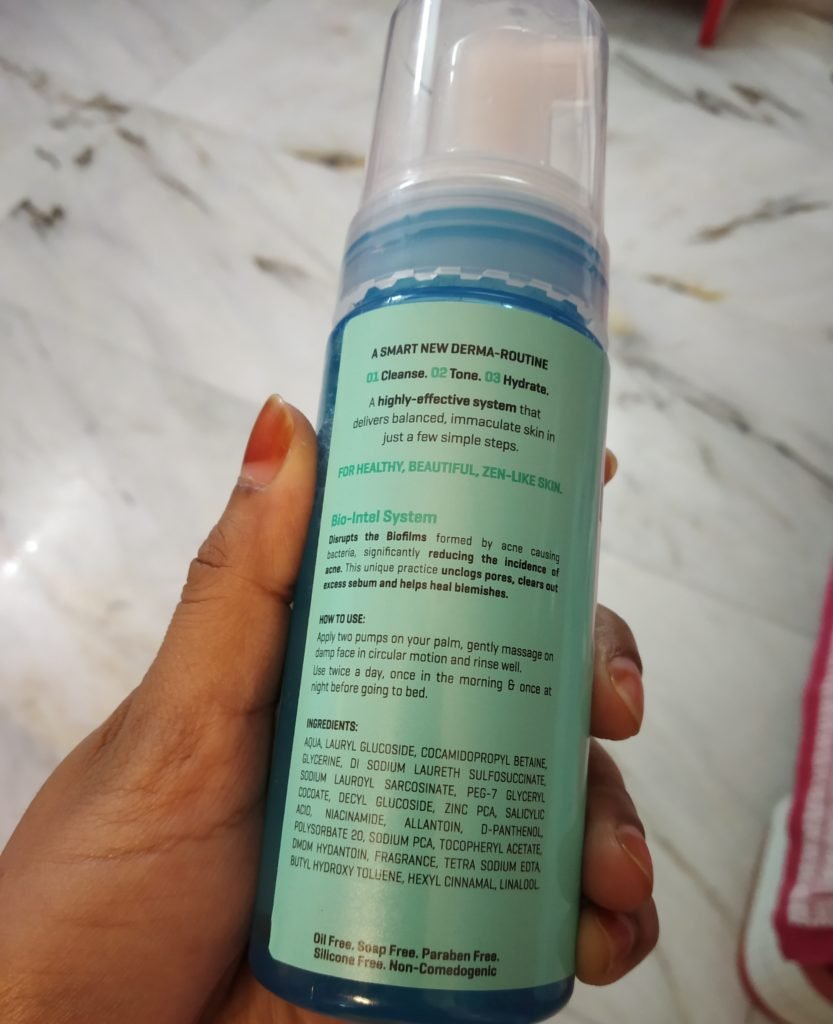 Price:
Rs. 449/- for 150ml.
Available At :
Available online at: Amazon
Packaging :
Dermafique Acne Avert Cleansing Mousse comes in a convenient pump dispenser,which is hygienic and controls the quantity dispensed every single time.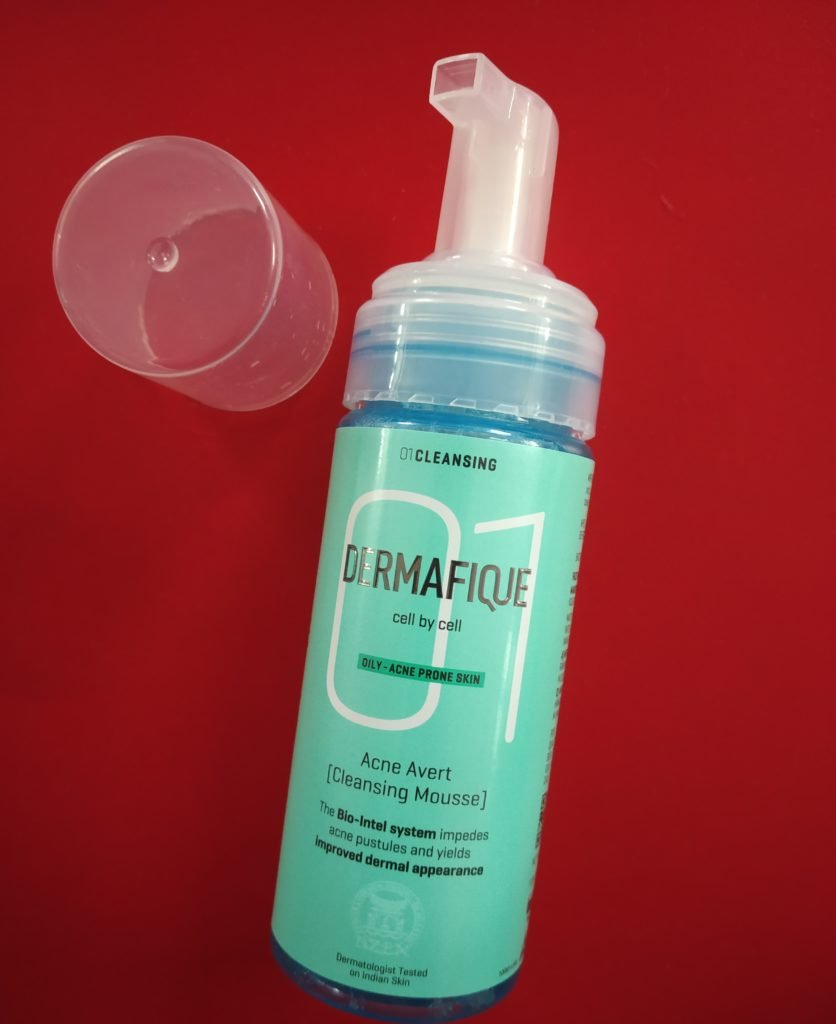 What It Claims To Do?
Acne Avert Cleansing Mousse has been designed for those with oily-acne prone skin. It deeply cleanses dirt, impurities and sebum without stripping your face of essential natural oils. Its Bio-intel system targets bacteria that trigger breakouts and clog skin pores. The product maintains the skin's ph balance as well.

This mousse is free of oil, soap, Parabean and silicone.
Texture:
It is a foam like light-weight cleanser
My experience with it:
Our skin is subjected to multiple harsh conditions everyday given to severe weather, pollution, improper water intake, junk food etc. All these lead to an increase in the sebum level, making the skin's surface oily and ultimately encourage acne formation. It is important to keep the skin clean at all times to control bacteria multiplication. And choosing the right cleanser is crucial. Dermafique Acne Avert Cleansing Mousse has powerful cleansing agents that go deep into the skin unclog the pores of impurities and sebum. With regular usage, the acne causing bacteria become weaker and breakouts get less often. The ingredients make acne to dry out completely, eventually.
I kept using the mousse twice a day atleast, once in the morning and later before going to the bed. Within a few days, even pre-existing blemishes began fading.
This cleanser is mild enough to be used by all skin types. Works for moderate or severe acne.
Pros:
☑️Cleanses deeply without drying the skin.
☑️Works effectively on excess oil and acne.
☑️Suitable for all skin types.
☑️Soap and Parabean-free.
Cons:
✖️A little expensive.